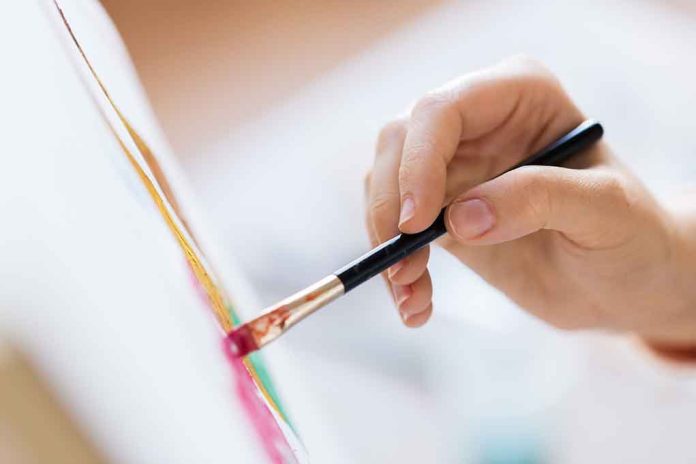 (ConservativeInsider.org) – As congressional investigators probe Hunter Biden's business dealings, there's growing suspicion about the paintings he's been selling. The president's son is a new artist — not the best-paid career in the US by a long way — and his work isn't remarkable, so why is it selling for such high prices? House Republicans fear it's a covert way of paying for access to the president.
.@RepJamesComer says that Hunter Biden's large art sales need a closer look to ensure they aren't part of a process to launder Chinese money.

Watch LIVE➡ https://t.co/tfCJIewSgV

Watch more #JustTheNewsNoNoise with @jsolomonReports and @AmandaHead here: https://t.co/hpY7uNSk2O pic.twitter.com/tSLGQB6djD

— Real America's Voice (RAV) (@RealAmVoice) January 27, 2023
Hunter Biden, the president's 53-year-old son, publicly launched his art career in 2020. The next year he held his first exhibition; it took place in Los Angeles and was organized by Georges Bergès, who is now the official dealer for Biden's paintings. A second exhibition followed, this time in Bergès's Manhattan gallery.
In 2021 it was reported Biden had sold five paintings for $75,000 each. That's a very high price for work by a new artist. In fact, the average American painter earns $73,013 a year, and experienced artist Adam Thompson said Biden's paintings would only be worth $4 to $5,000 each if they hadn't been painted by the president's son. Thompson also rated Biden's work as "nowhere near as good" as paintings by former president George W Bush, who has also taken up painting. In 2020, Bush used a series of portraits to show America's history of immigration.
The latest reports indicate Hunter has now sold around a dozen paintings, but friends insist he's making "nowhere near" the $500,000 he allegedly wants for his larger pieces. Representative James Comer (R-KY), the chairman of the House Oversight Committee, is still worried, though. Although a complicated scheme was set up to prevent Hunter — and his father — from knowing who actually bought his work, Comer says he's "95% sure" those buyers are from China.
If Chinese citizens are paying hugely inflated prices for Hunter's art and giving him a good income, that might persuade President Biden to look favorably on their requests. Of course, the president isn't supposed to know who the buyers are, but Bergès does, and he has close links with Hunter. It's not a secret that would be hard to unlock.
Copyright 2023, ConservativeInsider.org