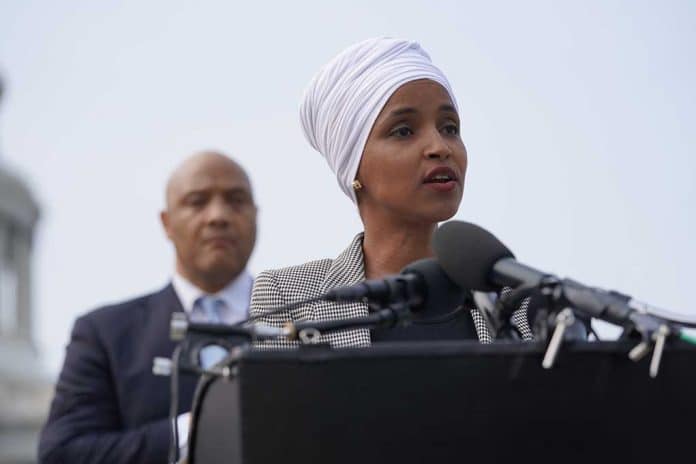 (ConservativeInsider.org) – In 2020, after George Floyd died while in an altercation with Minneapolis police, voices on the Left began an asinine call for cities to defund their police departments. Progressives claimed the money would be better spent funding social programs and emergency response teams than it would be spent on police officers to keep cities safe.
The New York Police Department (NYPD) was one of the agencies targeted by the Left. In 2021, city officials agreed to cut $1 billion from the police budget, and crime started soaring shortly after they made the announcement. A year later, there's a new mayor in the Big Apple, one who actually supports law enforcement, and the far-left is furious. Among those who are angry is Rep. Ilhan Omar (D-MN).
Omar Has a Lot of Words
On February 8, Omar appeared on Peacock TV's "Mehdi Hasan Show." The television host, Mehdi Hasan, asked the congresswoman how she felt about Progressives like Rep. Ritchie Torres (D-NY) and NYC Mayor Eric Adams (D) distancing themselves from the failed defund the police movement. Adams, in particular, ran and won on a platform of supporting the police.
Omar tried to use the mental health crisis, domestic violence, homelessness, and other issues as a reason why police departments should be defunded. She said she doesn't understand what points they were trying to make by claiming they "represent the most vulnerable in [their] communities." The congresswoman said anti-defund-the-police Democrats don't actually care about their communities because they aren't doing everything they can to keep them safe.
The Irony
Omar's words are so ironic it's almost laughable. She believes the mayor and her pro-police colleagues aren't keeping people safe because they believe in funding the men and women who keep people safe. Make it make sense!
The congresswoman must have missed the stats from around the country that showed crime skyrocketed in the cities that she wants to defund officers in. Just in NYC, crime shot up 21% in November 2021 over November 2020. Murders increased 4% over the previous year. Less than two months into 2022, major crimes in the city have spiked by 38%.
How would reducing police budgets help keep that crime down? The answer is: it doesn't. Cities across the country that originally reduced police budgets have almost all restored the money, including NYC.
Does Omar think if there isn't an officer to respond to a call, then a crime was not committed? What do you think?
Copyright 2022, ConservativeInsider.org