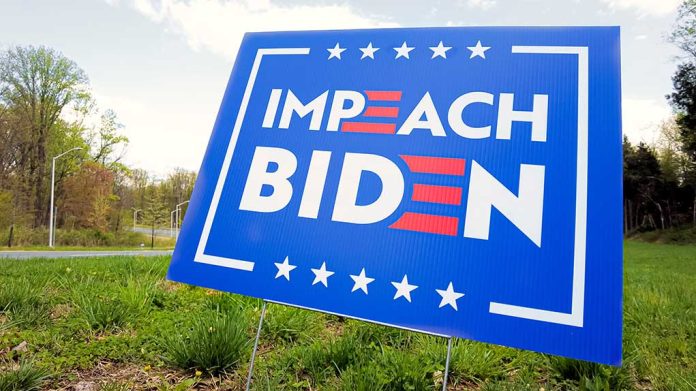 Joe Biden IMPEACHMENT Revelation – This Is Surprising!
(ConservativeInsider.org) – It's no secret many Americans disapprove of President Joe Biden's job performance. From the debacle in Afghanistan to the enormous number of illegal immigrants entering our nation unchecked on his watch to historic inflation levels, there are plenty of topics citizens have expressed their frustration about. Now, a new poll shows that the majority of voters believe the POTUS should be impeached.
From August 31 to September 1, Rasmussen Reports conducted a study with 1,000 US citizens likely to vote in the November midterms, resulting in a margin of error of 3% with 95% confidence.
The data revealed 53% of respondents support impeachment, including 32% of Democrats. Among Independents, 50% would either strongly or somewhat support the move, while 77% of Republicans think he should be removed from office.
Impeach Joe Biden?

Donald Trump was impeached, twice.

50% of all voters supported Biden's impeachment back in January. Now that's 53%

But only 45% (now 47%) of all voters think Republicans will actually do it if they retake the House this November. Voters know 'The DC GOP.' pic.twitter.com/ldTxBp7u9j

— Rasmussen Reports (@Rasmussen_Poll) September 8, 2022
While Americans want Biden to be impeached, it seems most do not think it will be possible, even if the Republicans take over the House of Representatives after November. The survey showed only 47% of voters think the GOP would impeach the commander-in-chief, up from 45% back in a January survey.
As Biden's presidency drags on, he gets less and less support from his own party. If this trend continues, some people wonder if he will survive four years in office, let alone win another term in 2024.
Copyright 2022, ConservativeInsider.org