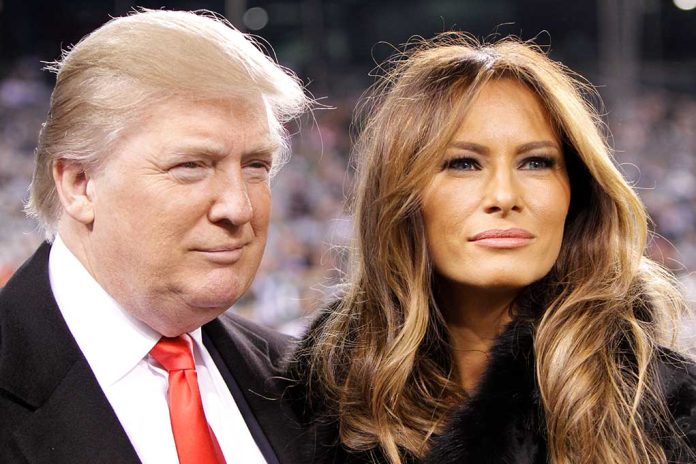 (ConservativeInsider.org) – After news broke that a New York district attorney had indicted former President Donald Trump on over 30 counts and criminal charges, many people close to the 2024 White House hopeful began sharing their support. While many GOP lawmakers that have publicly remained loyal to Trump took to Twitter and news shows to decry the indictment, his family members took a more private approach.
According to sources that spoke with People, the 45th president's current wife, Melania Trump, was "shocked" when she heard of the indictment but will continue to "support him." The source highlighted that drama has always been close to the Trump's, but they have learned to "wade through it." The indictment, which focuses on an alleged hush-money payment to adult film star Stormy Daniels, is likely not easy for Melania, as the supposed affair happened just a few months after she gave birth to their son Barron in 2006.
Amid Donald Trump's Indictment, Source Says 'Melania Will Support Him': 'That's What She Does' (Exclusive) https://t.co/WxL358amIB

— People (@people) April 3, 2023
The sources also told People that Melania continued her "upbeat" life in Florida while her husband traveled to New York to face the charges.
While Trump's daughter Ivanka has kept her public distance from her father's new presidential campaign, she is still expressing her support for him behind closed doors. Sources that spoke with Page Six shared that she visited her dad at Mar-a-Lago on Sunday, April 2, before he traveled to New York on Monday. She also shared a short statement on her Instagram stories, which disappear after 24 hours, writing that she is "pained" for her father and her country, according to Vanity Fair.
As Trump begins his fight by pleading not guilty to all 34 felony counts he is facing, many Americans are rallying behind the former president and calling the historic indictment a witch hunt. His son, Donald Trump Jr., is leading that group. He recently shared a photo on Instagram declaring the US is "turning into a banana republic," and the charges are not "a prosecution" but a "persecution."
Copyright 2023, ConservativeInsider.org