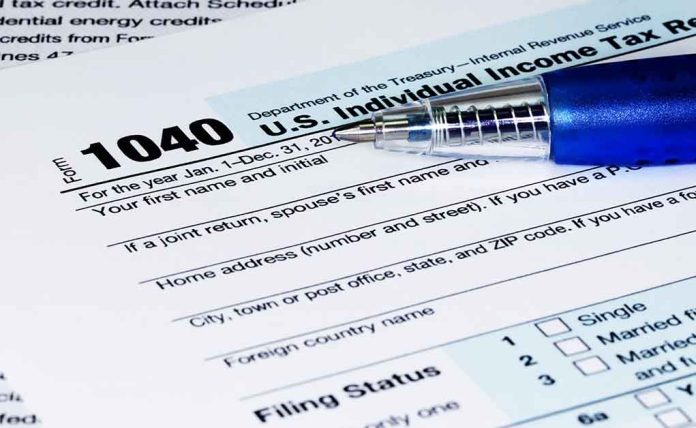 (ConservativeInsider.org) – Every spring, Americans begin getting forms in the regular mail as well as their email with various names: W-2, Form 1098, and 1099-DIV, just to name a few. Each of these plays a role in filing taxes, and the process only gets more complicated as people have more investments, sales, and jobs. To prepare filers for this upcoming tax season, the IRS released a few important dates, deadlines, and resources people should be aware of this year.
On Thursday, January 12, the IRS announced it will begin accepting tax returns on Monday, January 23. The agency believes around 168 million returns will be filed, and it emphasized they all should be submitted by the end of the season on Tuesday, April 18. This is a few days later than the typical April 15 deadline.
Hoping to make this year a bit easier than the past three, which were known for slow returns, confusing laws, and seemingly everlasting wait times to speak with an IRS employee on the phone, the IRS has implemented a few changes this year. First, the agency has over 5,000 new employees to answer questions over the phone. It also has additional money provided through President Joe Biden's Inflation Reduction Act.
IRS announces start date for 2023 tax filing season. Here are the key deadlines. https://t.co/6My0pzn8gc

— NBC New York (@NBCNewYork) January 13, 2023
In its announcement, the IRS asked filers to have all the necessary paperwork together before they file their returns to make the process as smooth as possible. The agency also highlighted that taxpayers will receive their refund fastest if they file electronically and pick direct deposit right to their bank.
Americans who earned less than $73,000 can use the IRS Free File program, which opened on Friday, January 13. During this season, it is important to research any potential refunds and credits you and your family can claim, such as the Earned Income Tax Credit (EITC), Child Tax Credit, and Education Credits. This will maximize the money in your pocket as you face 2023.
Copyright 2023, ConservativeInsider.org