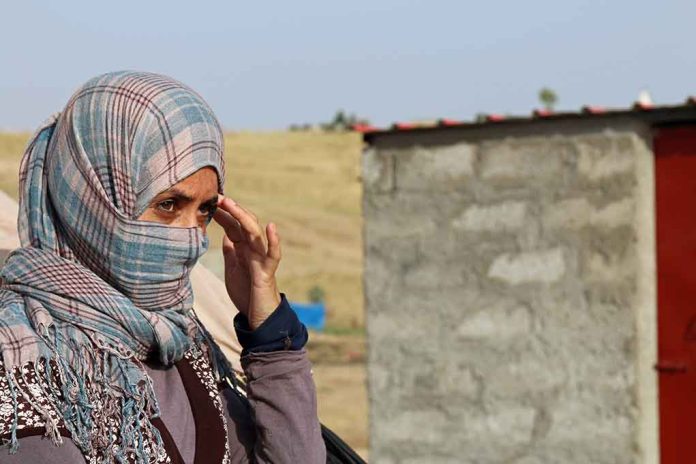 (ConservativeInsider.org) – In the early 2010s, reports began to spread of young women leaving their homes in the US to join ISIS in the Middle East. The terrorists were able to target and radicalize people to come and join their cause, despite a whole ocean of separation. This is precisely what happened to Hoda Muthana, a woman born in New Jersey in the fall of 1994 to Yemen diplomats. In 2014, she left her home in Hoover, Alabama, to fly to the Middle East and join ISIS. Now, she wants to come home.
During her time with ISIS, she married three fighters, two of which were killed in local battles. She divorced her third husband, and has a son from one of the unions. In 2019, five years after joining ISIS, she surrendered herself to the Syrian Democratic Forces, which then housed her in a detention camp.
This is Hoda Muthana. When she was 20 she left the US to join ISIS. She's currently living in a prison camp in northern Syria.

After spending four days of getting to know her. Hoda agreed to sit down and talk to us about why she left the US. pic.twitter.com/ZALHw4tIAb

— lucy marley (@lucymarleey) January 9, 2023
On Sunday, January 8, The News Movement posted a 15-minute interview with Muthana where she talks about how ISIS groomed her and lured her abroad. Now, she says she regrets joining and would like to return to the United States. However, the American government has repeatedly barred her from coming back.
In 2019, a federal judge confirmed a previous decision by the federal government that Muthana does not have US citizenship even though she was born in the United States. The judge claimed her father was a diplomat when she was born, and thus, was not entitled to citizenship by birth in the US. Her lawyer appealed the case, citing that Muthana's father was not a diplomat when she was born.
But, on Monday, January 9, the US Supreme Court chose not to hear her case and also not to comment on the matter. For now, Muthana is likely still at the Roj detention camp in Syria, where the recent interview was filmed as she tries to get the US government to allow her to return to her family.
Copyright 2023, ConservativeInsider.org