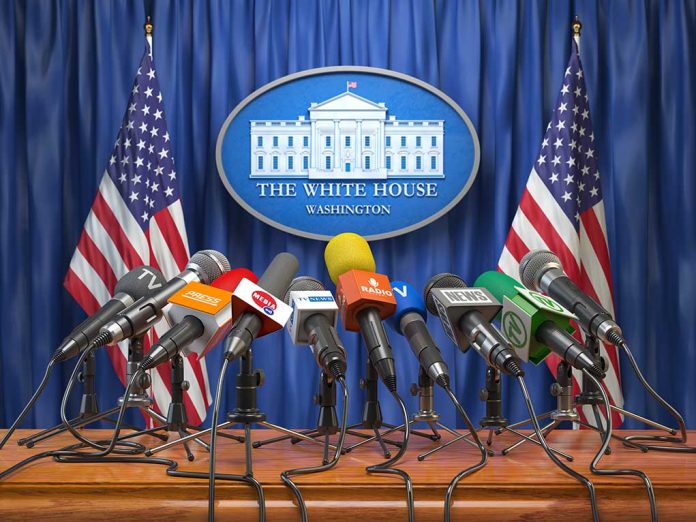 (ConservativeInsider.org) – In early April, reports spread that White House Press Secretary Jen Psaki would be leaving her position at the White House this spring to go work for MSNBC. This move isn't uncommon for presidential press staffers, but it does demand a high level of ethics as someone transitions from a role in the federal government to a news station. However, Psaki may have crossed an ethical line recently when she trash-talked Fox News.
On Friday, April 15, "Pod Save America" released an episode recorded the night before entitled "America's Next Top Press Secretary," where the show hosts spoke with Psaki about her time at the White House. During the discussion, one host asked Psaki, "Peter Doocy is a stupid son of a b***h, or does he just play one on TV?" While the pair were having a lighthearted, joking discussion, that did not give Psaki the freedom to reply how she did.
Without missing a beat, Psaki noted that, with no disrespect to Doocy, Fox gives people questions that could make anyone "sound like a stupid son of a b***h." This was an outright attack against Fox News, a major competitor to MSNBC, Psaki's future employer.
Sebastian Gorka, the host of "America First" and the "Gorka Reality Check," shared his opinion of Psaki's statement:
She should be punished for saying this.https://t.co/KfCmIa7KRM

— Sebastian Gorka DrG (@SebGorka) April 15, 2022
Psaki's words were insulting to Fox News, and some believe they could be considered defamation. Was this a violation of ethics, or just friendly but critical banter between friends?
Copyright 2022, ConservativeInsider.org