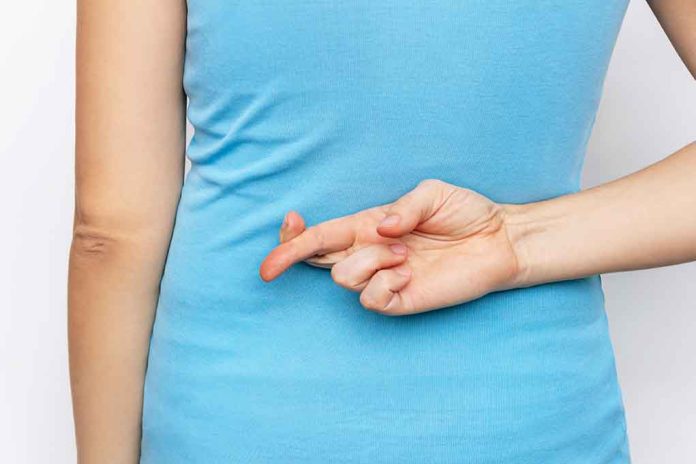 Jen Psaki CAUGHT Lying On Camera – A Humiliating Revelation!
(ConservativeInsider.org) – After a POLITICO report on a leaked draft opinion from the Supreme Court (SCOTUS) showing the judges are considering overturning Roe v. Wade, mobs of Americans showed up at various SCOTUS judges' homes to protest. In a press briefing afterward, then-White House Press Secretary Jen Psaki said the administration would "certainly continue to encourage that outside of judges' homes." Now, she's attempting to spin her previous words so as to not encourage a federal crime.
On Thursday, May 19, Psaki spoke at the University of Chicago's Institute of Politics. During the discussion, Chicago Thinker senior editor Daniel Schmidt asked the former press secretary if she regretted encouraging Americans to protest outside of federal judges' homes because it is a federal crime. After denying those words, Psaki corrected herself. The University of Chicago's independent newspaper shared a video of the back and forth on Twitter:
Jen Psaki brazenly lies to @UChicago student journalist, @RealDSchmidt, denying she encouraged anti-lifers to illegally protest outside Supreme Court justices' homes to influence SCOTUS abortion decision: pic.twitter.com/6mx3Th9kwZ

— The Chicago Thinker (@ThinkerChicago) May 19, 2022
Psaki, caught in her own words, emphasized she encouraged people to protest "peacefully." But, those words fly in direct conflict with US Code 1507 on Picketing or parading, which states that anyone who "pickets or parades" near a judge's house "with the intent of influencing" them shall be fined or imprisoned. This is yet another instance where the former Biden administration official tries to spin the truth in order to support her own agenda.
Copyright 2022, ConservativeInsider.org