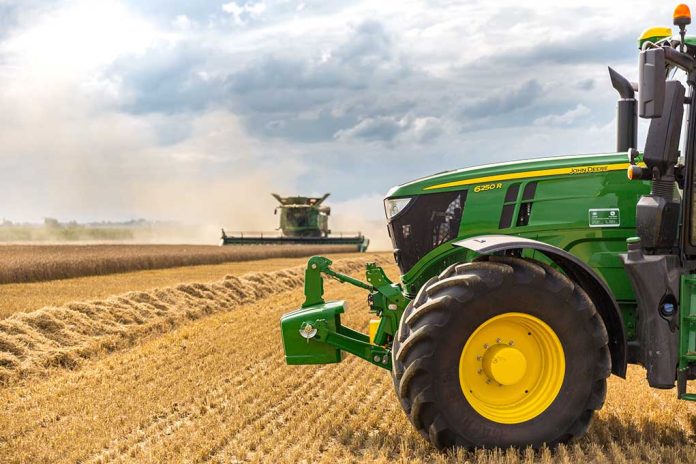 (ConservativeInsider.org) – It is rare for a day to go by when a dairy cow is not ready to be milked or a farmer's field is not ready to be planted, fertilized, mowed, or harvested. Hard-working Americans have tended to their farmland day in and day out for centuries, and in recent decades, technology has helped them produce more product in a smaller span of time. However, farmers who used John Deere equipment, made by Deere & Co., could not repair their own tractors and machines to cut costs — until now.
For years, Deere & Co. required its users to go to authorized repair shops to purchase replacement parts and get their equipment worked on. This was both expensive and time-consuming. Many farmers had the skills to work on their equipment but were legally barred from doing so as the major equipment maker wanted to protect its intellectual property, keep money coming in, and ensure their products were as safe as possible.
However, on Sunday, January 8, Deere & Co. and the American Farm Bureau Federation (AFBF) both signed a memorandum of understanding to state that farmers may use independent repair options, including doing the work themselves.
US Farmers win right to repair John Deere equipment https://t.co/P6ftDid5ab

— BBC News (World) (@BBCWorld) January 9, 2023
As prices are soaring for farmers and all Americans, this is an area that the hard-working men and women can cut costs in their businesses to either put more money in their own pockets or reduce prices for consumers. This change is enormous for farmers and is one of many similar ones put forward recently in the mechanical and technological markets.
For example, in 2022, Apple agreed to start a self-service repair store to allow its iPhone users to repair their batteries, screens, and other minor issues themselves rather than shelling out hundreds in cash to have it done at the Apple Store. While the American people could see an eventual decrease in food prices as farmers cut costs, this major move by Deere & Co. could push citizens to demand the "Right to Repair" things in other areas of their life, too.
Copyright 2023, ConservativeInsider.org