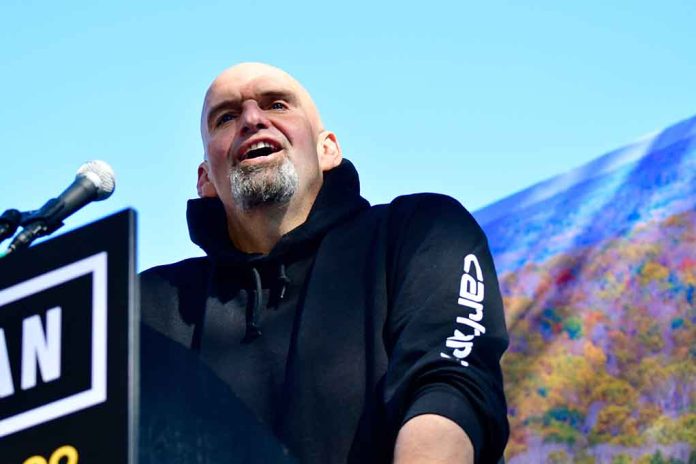 (ConservativeInsider.org) – Senator John Fetterman (D-PA) hasn't been having a good time recently. After a stroke almost derailed his campaign in last year's midterm elections, the controversial senator has now checked himself into the hospital for severe depression. Meanwhile, his wife took their children and left the country. Now she's hitting back at critics — and hinting she might launch a political career herself.
Gisele Fetterman Op-Ed in Elle: "I had never wanted to be in the public eye." https://t.co/c74TGo5rem

— The Gateway Pundit (@gatewaypundit) March 30, 2023
In March, Fetterman checked into Walter Reed Hospital after suffering from clinical depression, leaving his wife, former illegal immigrant Gisele Barreto Fetterman, at home with the couple's three children. During Fetterman's senate campaign, Gisele portrayed herself as his tireless helper, at his side to help him recover from the severe stroke that left him struggling to speak in debates. However, she seems to have a different plan this time. Within hours of Fetterman going into hospital, Gisele loaded the children into her car and headed for Canada.
In an interview with Elle magazine, published on March 30, Barreto Fetterman complained about being portrayed as "an ambitious, power-hungry wife." She insisted she is "not my husband's career" and denied she had any political ambitions of her own. However, her denial looked oddly like the denials of other people who promptly launched a political career. In March 2018, Senator Elizabeth Warren (D-MA) claimed she wasn't planning a presidential run; less than a year later, she launched one. Before the 2016 election, Hillary Clinton was giving reasons why she might not run for president right up until she announced she was running for president.
Barreto Fetterman's denial that she wants to go into politics was neatly balanced with a brief resume of her "nonprofit work and community support" and a mention that she's dedicated to "serving others" — which is just the sort of thing a politician would say. Will Barreto Fetterman run in her husband's place if he gives in to his persistent health issues and steps down? We'll just have to wait and see.
Copyright 2023, ConservativeInsider.org