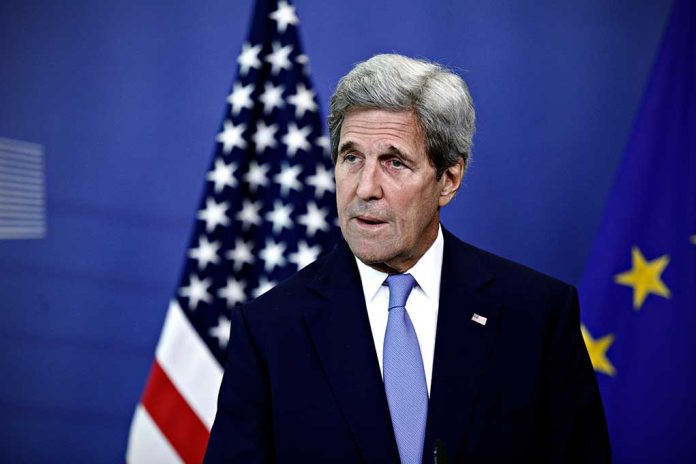 (ConservativeInsider.org) – The US relationship with China ebbs and flows as various administrations take different stances on political issues. The relationship also changes as different moves are made, such as former House Speaker Nancy Pelosi's (D-CA) trip to Taiwan that angered the Chinese Communist Party, and the more recent incidents involving Chinese spy balloons hovering over US territory. Due to these recent tension-boosting events, Special Presidential Envoy for Climate John Kerry believes the battle against climate change is slowing down, something he is quite concerned about.
During an interview at the S&P Global Conference with Axios, Kerry noted environmental issues got "mixed up into all the other tensions between" China and the US. He said his Chinese counterparts have "pulled back" as it feels like America is "bashing them," potentially a reference to the recent destruction of the Chinese spy balloon off the East coast.
John Kerry Complains That China Won't Talk To Him Anymore After Spy Balloon Incident https://t.co/NcE4jgpUMJ via @DailyCaller

— Chris 🇺🇸 (@Chris_1791) March 8, 2023
This slowing of green initiatives comes after the US and China made a declaration together in 2021 to get more aggressive about cutting emissions. While China is talking the so-called green energy talk, it is important to look at the overarching goal of the CCP to see if the world's biggest emitter of carbon is actually planning to follow through on its commitment.
China is a manufacturing behemoth, especially when it comes to the basic minerals needed for electronics these days. It refines the majority of cobalt and lithium in the world and around 90% of rare earth elements. It has also built many coal plants in developing nations, which clearly pushes against Kerry's climate change goals. The CCP is trying to maintain as much control over these key elements as the demand for more electronics and rechargeable batteries only grows.
In an opinion piece for Fox News, Representative Michael Waltz (R-FL) highlighted that while it may cost more to mine and refine these elements in the United States, the methods here are likely better for the climate than those used in China. In addition, there is a bigger battle here. The Florida lawmaker pointed out that "dependence on the CCP is actually the highest price of all," even above a warmer earth. So, while Kerry may prioritize fighting against carbon emissions, he must weigh the need in light of national security and putting America first.
Copyright 2023, ConservativeInsider.org