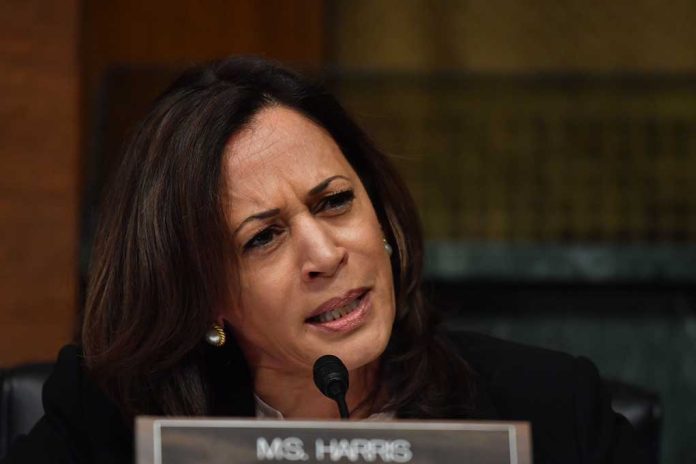 Kamala Harris' Newest $600 MILLION "Project" Revealed
(ConservativeInsider.org) – Physically, the Pacific Islands are quite small, but they hold incredible strategic importance in international politics. Recently, China has been pushing for more influence in the region, like when it signed a security pact with the Solomon Islands that could lead to the superpower building a navy base near the Australian coast. So, Vice President Kamala Harris appeared at the Pacific Islands Forum to pledge financial support to the region and try to rejuvenate relationships.
On Tuesday, July 12, Harris spoke at the forum's leaders' meeting after being invited by Forum Chair Prime Minister Frank Bainimarama of Fiji. She promised $600 million in funds for "economic development and ocean resilience" that she'll ask Congress to disperse over 10 years through the Economic Assistance Agreement with the Forum Fisheries Agency.
VP Harris will request $600 million in funding for economic development and ocean resilience, which is intended to build on efforts that enable U.S. fishing-fleet access to the Pacific and combat the scourge of illegal, unreported, and unregulated fishing. https://t.co/0pFqmbR4Ga

— AlexGangitano (@AlexGangitano) July 12, 2022
Kamala also noted the US hopes to establish new embassies in Kiribati and Tonga and continue its process of reopening the embassy in the Solomon Islands. The VP hopes she can get the current administration to appoint an envoy to the Pacific Islands Forum and write a national strategy for the Pacific Islands, neither of which has ever occurred before.
According to The Hindu, all of this came after Harris admitted that "the Pacific islands may not have received the diplomatic attention and support that you deserve" recently from the US, emphasizing she and President Joe Biden are hoping to change that.
Copyright 2022, ConservativeInsider.org