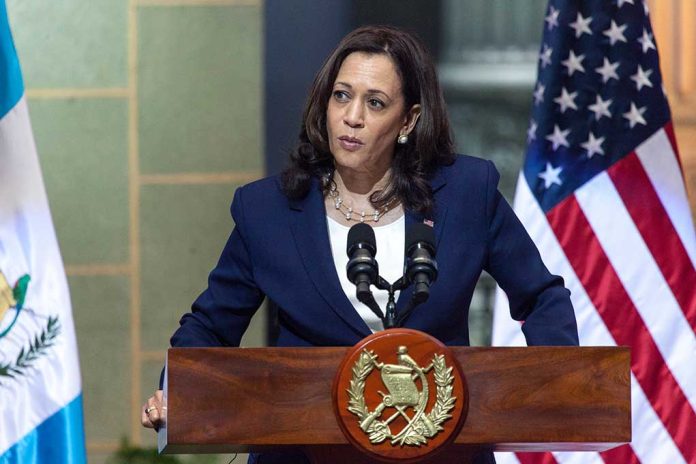 (ConservativeInsider.org) – It's no secret the US border with Mexico has seen a record-breaking number of illegal immigrants in the past two years. To address this, President Joe Biden put Vice President Kamala Harris in charge of addressing the root cause of the problem, which she has said includes bettering democracies in Central America to keep residents there rather than wanting to flee to the US. In theory, Biden's second-in-command is still working on this issue, despite months of silence.
However, the VP and so-called border czar did not even accompany Biden on his recent trip to the border.
On Sunday, January 8, Biden spent a few hours in El Paso, Texas, meeting with border patrol, speaking with lawmakers, and touring a migrant center. This was his first trip to the border since taking office, and he is receiving a bit of criticism over it. According to the Associated Press, Biden did not actually interact with any migrants during his four hours at the border, although he may have seen a few when his motorcade drove near the border near Ciudad Juárez.
So much for "Border Czar" Kamala Harris https://t.co/0qdzXeEhuI

— GOP (@GOP) January 8, 2023
This trip was not too different than Harris' June 2021 visit to the border, which was also highly scheduled and sanitized to go smoothly. That journey was the border czar's only visit to the area, and she also received criticism, mainly from Republicans, for not seeing the more difficult parts of the border and its processes.
When asked by the Daily Caller why Vice President Harris did not go with Biden to the border this month, her office did not respond with comments. This silence echoes loudly as the last time the VP even spoke about migration issues was June 7, 2022, when she promised to send almost $2 billion in aid to Central America to boost its economy and, in turn, keep residents from wanting to leave.
With another two years ahead of them in office, there is still plenty of time for the POTUS and his VP to create a new plan to stem the tide of migrants flooding over the US southern border. But, they might need to see the unsanitized version of the problem, and more often than once every two years.
Copyright 2023, ConservativeInsider.org