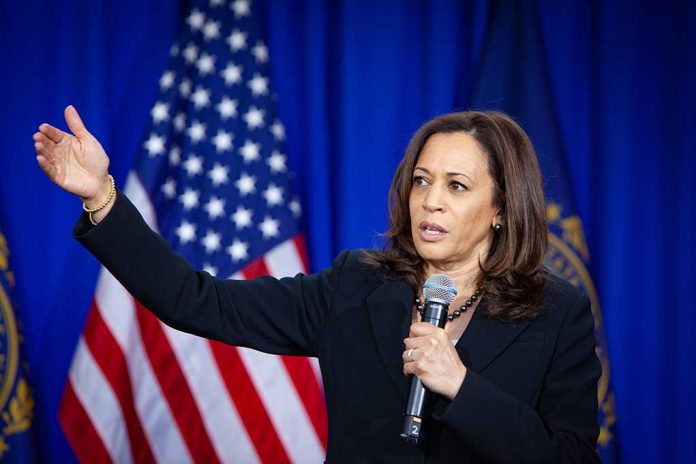 Kamala Harris Points Out "Disturbing Behavior" While Talking About China
(ConservativeInsider.org) – Former Japanese Leader Shinzo Abe was assassinated on July 8, 2022. On September 27, world leaders from around the globe gathered to celebrate his life and pay their respects. Vice President Kamala Harris represented the United States at the state funeral and used her trip to Asia to try and reassure allies of the US presence in their region and stabilize tensions as well.
On Wednesday, September 28, Harris spoke to US sailors aboard the USS Howard at Yokosuka, a port with a strong US Navy presence close to Tokyo, Japan's capital. During her speech, Harris highlighted numerous ongoing issues in the region, including Russia's war in Ukraine, North Korea's recent ballistic missile launch, and China's aggressive behavior towards Taiwan.
"China has flexed its military and economic might to coerce and intimidate its neighbors," Vice President Kamala Harris said aboard a naval destroyer in Japan https://t.co/HGf5LwLl40

— WSJ Politics (@WSJPolitics) September 28, 2022
When speaking about Beijing, the vice president noted the country is exhibiting "disturbing behavior" and "undermining key elements of the international rules-based order." She also reassured listeners the US would "support Taiwan's self-defense," a policy that has angered China as it continues to claim the island is under Beijing's rule.
From Abe's funeral Tuesday, this speech Wednesday, and a visit to the demilitarized zone between North and South Korea on Thursday, Harris certainly had a full docket while abroad. However, many are wondering if her strong remarks supported or contradicted her goal to de-escalate tensions between China and Taiwan while she was nearby.
Copyright 2022, ConservativeInsider.org