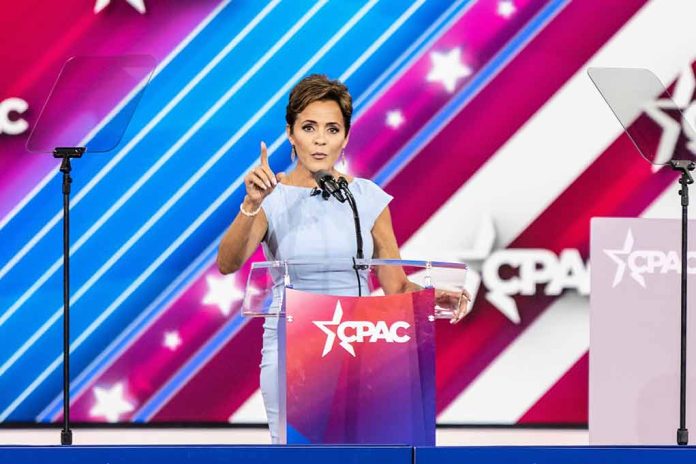 (ConservativeInsider.org) – Arizonan Kari Lake hoped to become governor of her state back in 2022 but failed to beat out her opponent, Democrat Katie Hobbs, who won by a little more than 17,000 votes. After the election, Lake challenged her defeat in court, but the Arizona Supreme Court eventually declined her numerous appeals. Now, a poll is showing the former gubernatorial candidate may be able to win an election for a different seat.
According to a poll published this month by JL Partners conducted from April 10 to 12, 38% of Arizona Republicans and undeclared voters would support Lake if she ran for the state's Senate seat, currently held by Senator Kyrsten Sinema (I-AZ). The five-minute survey has a margin of error of 4.2% and 550 respondents.
If @KariLake decides to run for Senate, there is no path for any Republican to beat her for the nomination.

She has a commanding lead and she's not even trying.

Arizonans love Kari Lake!https://t.co/VBN0IrDpir

— Alex Bruesewitz 🇺🇸 (@alexbruesewitz) April 17, 2023
The runner-up for the potential Republican primary spot is Karrin Taylor Robson, who only garnered 10% of the poll votes. Robson lost in the gubernatorial primary to Lake leading up to the 2022 election. Former President Donald Trump endorsed Lake last year, although she has yet to officially announce a bid for the upcoming Senate race. In the meantime, though, she has been building up her national profile.
Over a weekend in the middle of April, Lake stayed with Trump at his Mar-a-Lago estate and told Kimberly Guilfoyle that she penned a book that will hit shelves at the beginning of the summer. During her Florida trip, Lake spent time with martial arts fighter Colby Covington, former Olympic gold medalist Caitlyn Jenner, and socialite Kimberly Glaser. As she welcomes these connections, some people have speculated that she could be Trump's pick for Vice President in 2024.
Lake has also traveled to Iowa recently, a state popular with potential presidential candidates this time of year. In addition, she spoke at the veteran mental health charity fundraiser, Make 22 Zero Again. She also attended the Border 911 event put on by the America Project. Clearly, Lake is vying for a future in politics, although no one quite knows what that will be yet.
Copyright 2023, ConservativeInsider.org