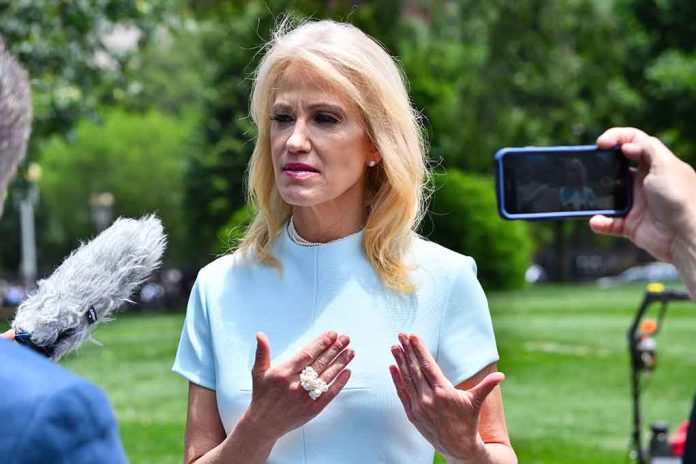 (ConservativeInsider.org) – People working closely with a sitting president must be careful with their rhetoric, as their personal viewpoints and statements can often be confused with the official stance of the federal government. In addition, there are certain laws that dictate what is or is not appropriate to say while executing the duties of a position in the federal government. Specifically, the Hatch Act prohibits these employees from campaigning for a president or promoting a campaign agenda while conducting their official duties, although the discipline for breaking this law is minimal. Now, one Democrat is seeking to change that.
On February 28, House Representative Dan Goldman (D-NY) submitted an amendment to HR 140, which he referred to as the "Kellyanne Conway Act." The bill would fine anyone who violates the Hatch Act up to $1,000 and remove them from office. It also says if federal employees "knowingly" violate the law, they can face up to two years in jail in addition to the financial penalty. Under this proposal, the violator would also become a convicted felon.
House Democrat nods to Kellyanne Conway in push to make Hatch Act violations a crime https://t.co/5VcsZREH43 pic.twitter.com/JpgJi66ner

— The Hill (@thehill) March 1, 2023
In a press release, Goldman attacked Kellyanne Conway, a former advisor to President Donald Trump, calling her a "serial offender" of the Hatch Act. A 2019 Office of Special Counsel (OSC) report found that she had violated the federal rule multiple times and recommended that Trump remove her from employment. The 45th president declined to do so, emphasizing she has a right to free speech.
Conway understood that breaking the rules laid out in the Hatch Act did not come with any serious consequences. She told reporters in 2019, "If you're trying to silence me through the Hatch Act, it's not going to work," and "Let me know when the jail sentence starts."
There are certainly politicians in support of and against this proposed amendment. As always, though, the best way for Americans to see the changes they want to come to fruition is for them to contact their government representatives and urge them to support or push back against legislation as it aligns with their views.
Copyright 2023, ConservativeInsider.org