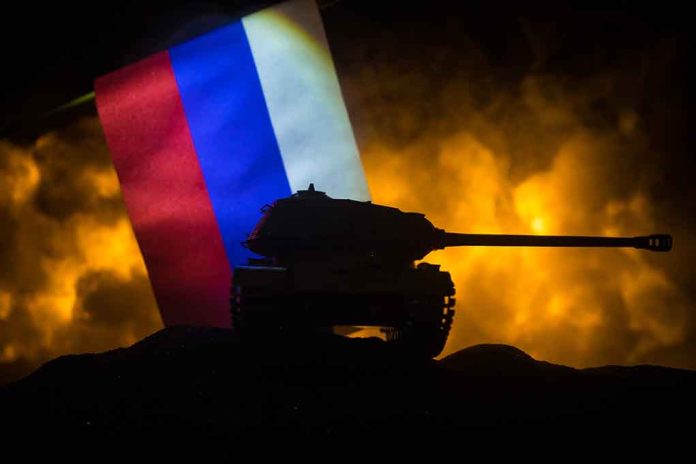 (ConservativeInsider.org) – North Korean dictator Kim Jong-Un has written to Russian President Vladimir Putin to wish him well and predict his victory in the war against Ukraine. He said Russia "will prevail."
In an attack on the West, Kim's letter to Putin said Russia is leading the cause for world peace and engaged in a "sacred struggle" to fight the "arbitrary practices of the imperialists."
While Russia faced increasing global isolation following its invasion of Ukraine in February 2022, some countries have maintained or strengthened their ties with the Kremlin – notably communist or dictatorial regimes.
Chinese leader Xi Jinping visited Russia in March to "deepen" the relationship between the two countries. China offered to act as a peace broker but made its alliance with the Kremlin clear. Opening proposals from China, however, did not include an immediate Russian withdrawal from Ukraine.
Significantly, China and Russia declared that unprecedented change was coming to the world, and their partnership would bring it about. "Together, we should push forward these changes that have not happened for 100 years," Xi told Putin.
During their discussions, the Russian and Chinese leaders spoke of the threat of NATO and other Western alliances. They said they would build a closer partnership on energy, as well as support companies that advance cooperation projects in energy production.
The US warned China not to supply weapons to Russia, stating that such an action would have serious consequences.
America has meanwhile strengthened its alliance with South Korea as the world divides in support of either Russia or Ukraine. The South Korean President visited the US recently and continued mutual support was agreed. South Korea has also reached an arrangement with Japan to share information on North Korea's ballistic missiles. The US has accused North Korea of supplying weapons to Russia, which it denies.
At a Victory Parade celebration in Moscow, Putin said, "We have repulsed international terrorism, we will protect the inhabitants of Donbas, we will ensure our security."
Copyright 2023, ConservativeInsider.org