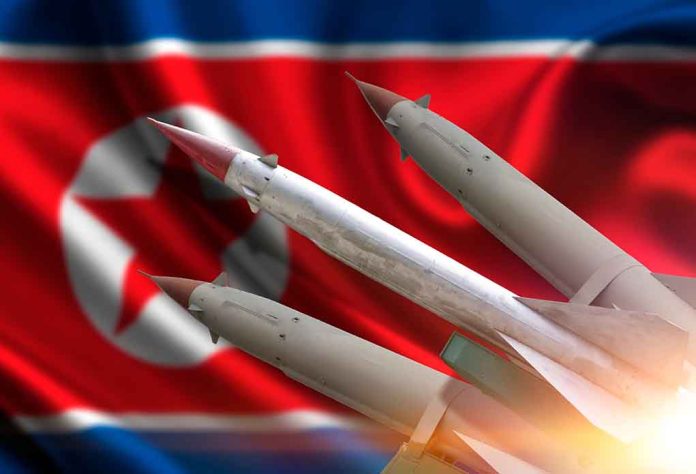 (ConservativeInsider.org) – In case Russian President Vladimir Putin's threats of nuclear war are not enough to set the world on edge, North Korean Leader Kim Jong-un is conducting his own set of missile tests in an attempt to show his nation's strength. The latest sparked the evacuation of a Japanese island nearby and a strong response from the US and other nations.
On Friday, April 14, Kim announced that just days before, his military tested a solid-fuel intercontinental ballistic missile (ICBM). According to Reuters, the North Korean state media reported the new weapon is supposed to make the country's opponents "experience a clearer security crisis, and constantly strike extreme uneasiness and horror into them." The media outlet also shared photos of the launch, including Kim viewing the test alongside his wife, sister, and daughter.
The missile marks the first of its kind to use solid instead of liquid fuel. While it was fired at a high angle, it still traveled about 620 miles. Experts believe it could go much further when shot at a lower, more typical angle. The test caused Japan to issue an evacuation order for Hokkaido, although it was reversed after authorities realized the missile would fall into the ocean instead.
North Korea's state-run television has broadcast video footage of the country's test launch of its new solid-fuel ICBM https://t.co/QfDY1qO2iG pic.twitter.com/wH9s3JPzjx

— Reuters (@Reuters) April 14, 2023
The US and South Korea responded to the test by conducting military drills just a few hours later, with multiple bombers and fighter jets. The American military also joined Japanese fighters to conduct a joint air mission in the Sea of Japan.
On Wednesday, April 12, National Security Council Spokesperson Adrienne Watson released a statement "strongly" condemning the ICBM test. It called the move "a brazen violation of multiple UN Security Council resolutions and needlessly raises tensions" in the area. Watson went on to encourage Pyongyang to turn to "diplomatic engagement" instead of "destabilizing actions." The statement also made it clear America will defend its allies, including South Korea and Japan, at all costs.
Copyright 2023, ConservativeInsider.org