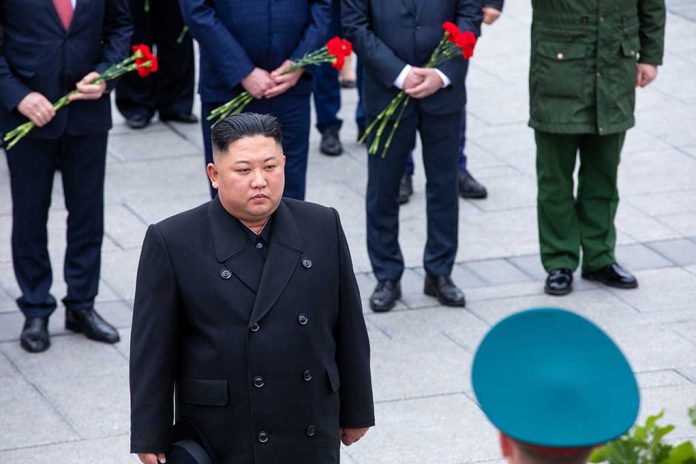 (ConservativeInsider.org) – When North Korean Dictator Kim Jong-un was about eight years old, he was given a general's uniform as a gift at his birthday party as it was made public that he would follow in his father's footsteps as the future leader of the nation. At that time, even the military leaders bowed down to him, marking their respect for the choice. Now, it seems Kim is preparing his own daughter to take his place one day.
On Tuesday, February 7, Dictator Kim Jong-un walked alongside his daughter, likely between 9 and 11 years old, at a military parade in Pyongyang. The celebration marked the 75th anniversary of the creation of the Korean People's Army. The state news agency shared photos from the event showing Ju Ae, Kim's daughter, between her parents in simple but professional attire.
This was her second appearance in recent months, the first being at a test launch of the nation's intercontinental ballistic missile in November 2022.
Kim Jong Un's daughter was seen marching alongside him at a military parade this week. The girl has not been named in state media, but South Korean intelligence officials believe she is Kim's daughter identified as Ju Ae https://t.co/4oTLuEdHC6 pic.twitter.com/JuGtRdZyUl

— Reuters (@Reuters) February 9, 2023
While no official announcement has been made, the media referred to the middle schooler as the "most beloved" daughter, according to various media outlets. This rhetoric, alongside the photos, fueled speculation that Ju Ae will be Kim's successor when he passes or chooses to step down from his position of power. The Kim family has ruled North Korea since 1948 in the aftermath of World War II.
Some experts wonder how North Korea would react to a female leader, although other women have risen to high spots in the government. Kim's sister Kim Yo Jong is one of his top aides alongside Foreign Minister Choe Son Hui. However, Kim Seok-Hyang, a professor at Ewha Womans University in Seoul, South Korea, told the Washington Post that the photos are simply being used as propaganda to paint Kim Jong-un as a loving father figure in front of his citizens.
Copyright 2023, ConservativeInsider.org