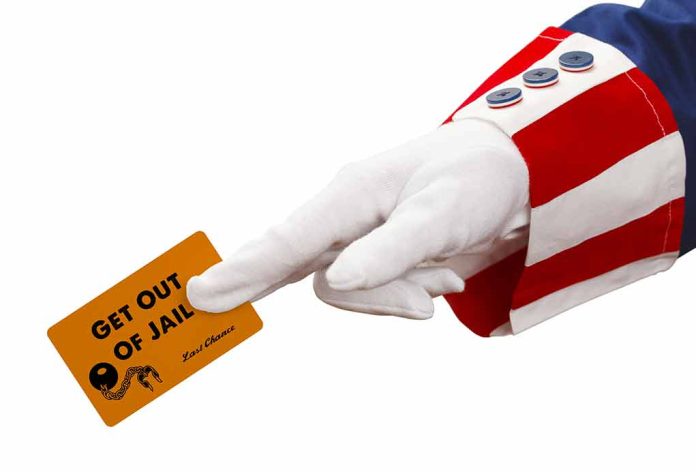 (ConservativeInsider.org) – Karine Jean-Pierre, White House Press Secretary, recently shot down the idea that President Joe Biden might issue a presidential pardon for his son Hunter Biden over his ongoing legal troubles.
Mark Meredith, a reporter from Fox News, asked if there was a possibility that President Biden would pardon his son and Jean-Pierre replied simply "no." When Meredith tried to ask a follow up question, Jean-Pierre interrupted him and stated, "I just said no" before moving on to another reporter's questions at the daily White House briefing. The White House press team has been attempting to get reporters to not ask about Hunter Biden's legal issues, with little success.
Hunter Biden is currently facing multiple federal charges, including willful failure to pay over $100,000 in income tax, as well as lying on a federal form applying for gun ownership, which is a felony. Federal applications for gun ownership ask the applicant if they are addicted to any controlled or unlawful substances. Hunter Biden answered that he was not addicted or a user of unlawful substances despite having an addiction to cocaine.
A plea deal for Hunter Biden that would have potentially granted him immunity from further prosecution on these issues and would have allowed him to avoid jail time recently fell apart because a federal judge refused to sign off on the deal, leaving Hunter Biden's future in question.
While the President and First Lady Jill Biden have expressed support for Hunter Biden throughout the process, many Democrats have spoken out against the idea of President Biden offering his son a pardon. Dan Goldman, a Democratic Representative from New York, said pardoning Hunter Biden would be a "mistake," but he also noted that President Biden has not said that he would pardon his own son.
Even though Hunter Biden admitted to his guilt in regard to the charges brought against him, he entered a "not guilty" plea in order to give his legal team more time to work out a plea deal with prosecutors.
Copyright 2023, ConservativeInsider.org