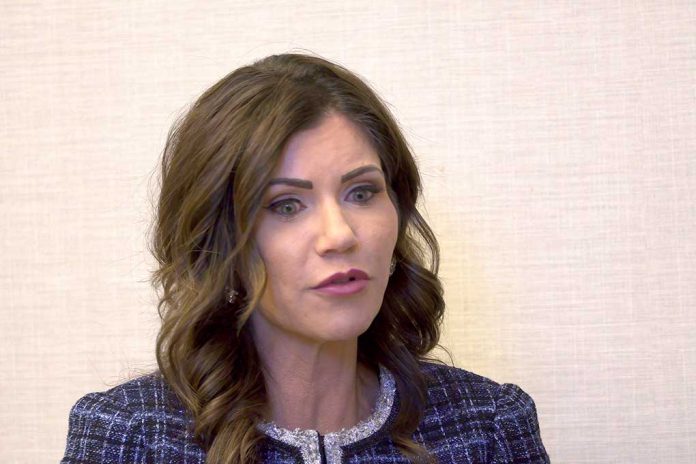 Kristi Noem Wants This DEADLY "Loophole" Closed For Good
(ConservativeInsider.org) – The US Supreme Court's (SCOTUS) decision to overturn the 1973 Roe v. Wade ruling that made abortion a Constitutional Right has now given states back the power to decide if that type of that procedure will be legal in their jurisdiction. Many states have banned abortions altogether, but the rise of telemedicine and easily prescribed abortion pills makes policing this tricky. South Dakota Governor Kristi Noem is determined to close up this legal loophole as soon as possible.
On Sunday, June 26, Noem met with Margaret Brennan on CBS' "Face the Nation" to discuss her stance. During the chat, the South Dakota lawmaker called abortion pills "very dangerous medical procedures," noting her 2021 executive order that banned out-of-state healthcare providers from prescribing the deadly pills.
South Dakota Gov. Kristi Noem on Sunday defended the state's ban of an FDA approved abortion pill — a method not specifically addressed by the Supreme Court's overturning of Roe v. Wade. https://t.co/uRyZ8Cixf2 pic.twitter.com/NFXpf8GR3p

— Newsmax (@newsmax) June 27, 2022
As many people use fear-tactics to scare women about states that ban abortions, Noem emphasized that her state will always "take privacy rights very important" and protect "our freedoms and our liberties." She also spoke of her state's website, which provides mothers with information on everything they need as they prepare to welcome a child into the world including resources on adoption, parenting, mental health, and finances.
Kristi Noem says doctors who perform abortions will be prosecuted; we 'won't punish mothers, ever' https://t.co/MflMV2TXaQ pic.twitter.com/nTseqByDSj

— Conservative News (@BIZPACReview) June 27, 2022
The prominent governor emphasized how her state government would be fully supportive of mothers facing unplanned pregnancies and also fully protective of the lives of unborn South Dakotans.
Copyright 2022, ConservativeInsider.org