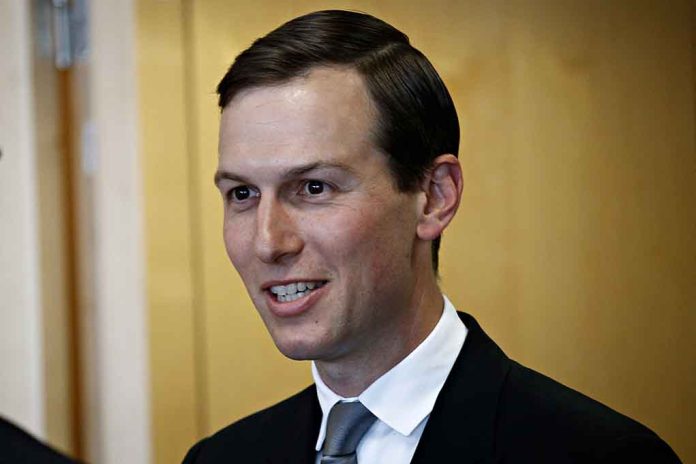 (ConservativeInsider.org) – When President Trump was in office, his son-in-law Jared Kushner was a senior advisor in the White House, leading the administration's Middle East policy. Kushner, who is Jewish, was tasked with trying to find a way to stabilize the Middle East and strengthen diplomatic relations between Arab nations and Israel. Now, in the wake of the attacks from Hamas on Israel, he is being criticized by people who say his efforts to create peace in the Middle East failed.
Talk of Kushner's accomplishments as a senior White House advisor typically centers around The Abraham Accords, which Kushner helped broker. The Abraham Accords involved the United Arab Emirates (UAE), Bahrain, and Israel, normalizing relations and allowing flights for tourists to visit the other countries for the first time. While some have praised the deal as a step towards peace in the Middle East, some have criticized the Accords, claiming it favors Israel too strongly and ignore the issues that Palestinians face. For example, under President Trump's administration, $25 million in aid for Palestinian hospitals was cut, along with $200 million in aid for the UN Relief and Works Agency, which provides support to displaced Palestinians.
President Trump, under Kushner's advice, became the first US president since 1979 to recognize Jerusalem as the capital of Israel, placing the US embassy in the city. Jerusalem's status since the 1979 Camp David Accords has been disputed, as Palestine claims their capital to be East Jerusalem.
On an appearance on the Lex Fridman Podcast just days after the attack on Israel, Kushner praised Trump's foreign policy, pointing out that two wars have now broken out since Trump left office, suggesting the "weak leadership" America currently has under President Biden makes the world a "less safe place." He said he "hope[s] and pray[s]" for Trump's re-election, pointing out that when Trump left office in 2021, Middle East relations were on a "very positive trajectory," and said it can go back on that trajectory if "the right things happen."
Copyright 2023, ConservativeInsider.org