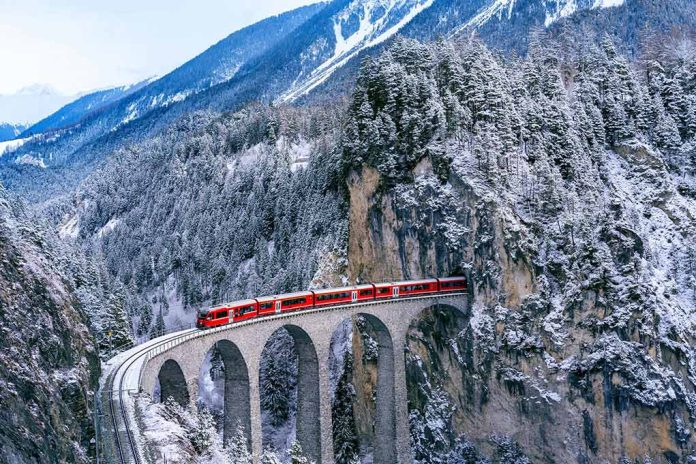 (ConservativeInsider.org) – National railway operator SBB has announced that due to the August 17th, 2023, derailment of 16 cars, the world's longest and deepest rail tunnel needs to close for several months for repairs. No one was injured, but the tunnel was severely damaged. The tunnel located in the southeast region of Switzerland is heavily trafficked and imperative to regional travel and supply.
The engineering achievement is that the Gotthard Base Tunnel travels under the Swiss Alps, one of the tallest mountain ranges, and is a critical route for people, goods, and cargo. The tunnel took 17 years to complete at a cost of $12 billion. Enormous fanfare and celebration occurred when it was completed in 2016.
Some passengers might enjoy the scenic route, but it adds 60 minutes. The railway provides a necessary high-speed link between northern and southern Europe. The railway is expected to open for freight traffic before passenger traffic. The tunnel offers imperative routes for goods to Germany and Italy and more than two-thirds of rail freight traffic near the Alps rolled through this tunnel in 2022.
Widely considered one of the safest tunnels in the world, experts have noted that it is not immune to possible accidents. A full investigation by the Swiss Transportation Safety Investigation Board (STSB) is underway in addition to the extensive clean-up that will be needed. The overturned rail cars contained wine, produce, and other goods strewn across the tunnel.
No abnormalities were found during the initial inspection, but experts noted that this is a downside of high-speed trains: more damage when they do derail. High-speed trains crisscross Europe, connecting people and goods efficiently, but like all modes of travel and transport, there are downsides. Authorities are advising travelers to plan for delays and hope that repairs will proceed without issue.
Copyright 2023, ConservativeInsider.org