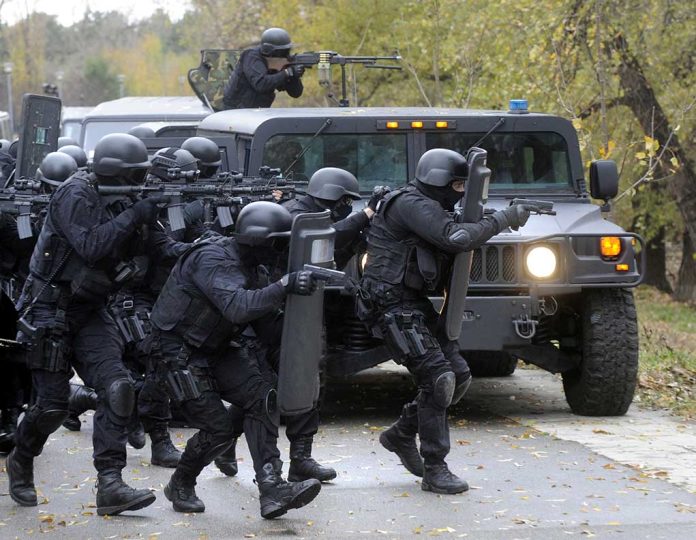 Swat Team SURROUNDS GOP Congress Member!
(ConservativeInsider.org) – In recent years, a terrifying and sometimes deadly new prank gained momentum: swatting. This involves someone calling into an emergency line, typically under a fake number, to make a false report of murder or similar bad crime in order to get armed police or a SWAT team to show up at someone's residence. US House Representative Marjorie Taylor Greene (R-GA) was just subjected to this activity — twice in as many days.
Around 1 a.m. on Wednesday, August 24, police received a call saying a murder was underway at a home in Rome, Georgia, and that there were children inside. While en route to the residence, authorities learned it was Greene's home. The lights and noise woke up the Georgia representative, who answered her door when the authorities knocked.
An officer asked Greene if she was okay, and she invited them in to assure them all was well. After a brief search of her home, all parties confirmed the suspicion that someone swatted her. She shared the details of her experience on The Charlie Kirk Show, ending by emphasizing that whoever was responsible for putting both her life and the lives of the police officers in danger should "be locked up."
.@RepMTG talks about what exactly happened when she got swatted last night. pic.twitter.com/A4KA9yhNvT

— The Post Millennial (@TPostMillennial) August 24, 2022
On Thursday, August 25, it happened all over again as another fake call was placed to 911 and police were again dispatched to Taylor Greene's home.
Swatted again last night.

— Rep. Marjorie Taylor Greene🇺🇸 (@RepMTG) August 25, 2022
A caller later took responsibility for the first report, saying they did it to protest the lawmaker's stance on transgender Americans. More details on the investigation will come out in the coming days and weeks.
Copyright 2022, ConservativeInsider.org