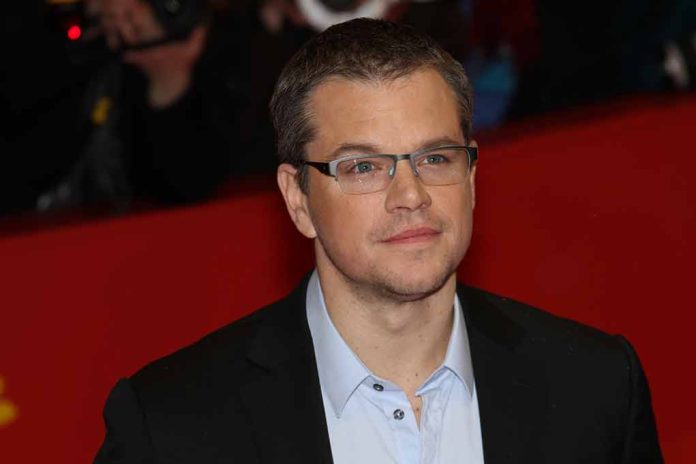 (ConservativeInsider.org) – Matt Damon, father of 4 and age 52, had promised his wife a break from work unless filmmaker Christopher Nolan offered him a part. Damon landed an ensemble role in Nolan's historical drama "Oppenheimer" which debuts July 21. Damon stars with Cillian Murphy, Emily Blunt and Robert Downey Jr among others in the highly anticipated summer drama blockbuster.
Damon notes that couples therapy negotiations resulted in his taking a break from large projects to aid his wife in home and family life. Damon and his wife have 4 daughters and she does not maintain any online presence and is not employed in Hollywood; she was a bartender when they met.
Damon noted that when Christopher Nolan calls you for a role, it's the chance of a lifetime and it's usually out of the blue. Damon didn't know what role he was intended for or much about the project before casting was finalized.
"Oppenheimer" is a war/ drama movie that is listed at three hours in length and is expected to do well in its opening weekend. The movie premiered in Paris and Damon was there to celebrate with his entire family just before walking out to join the SAG-AFTRA strike.
Damon credits his wife for helping after a bout with depression during an unnamed movie that Damon wasn't feeling excited about. She encouraged him to be the pro that he is and finish the project. He noted that some of those 15-hour days simply don't leave an actor thrilled with their projects and overall outlook.
"Oppenheimer" is slated to be one of the most highly anticipated movies of the summer and the ensemble cast of characters to play this dark period in history is surely to set the historians ablaze with excitement. The movie has been banned in Japan unsurprisingly, but the overall message is likely to provide insight and knowledge for a new generation unfamiliar with the details of this era and project.
Copyright 2023, ConservativeInsider.org