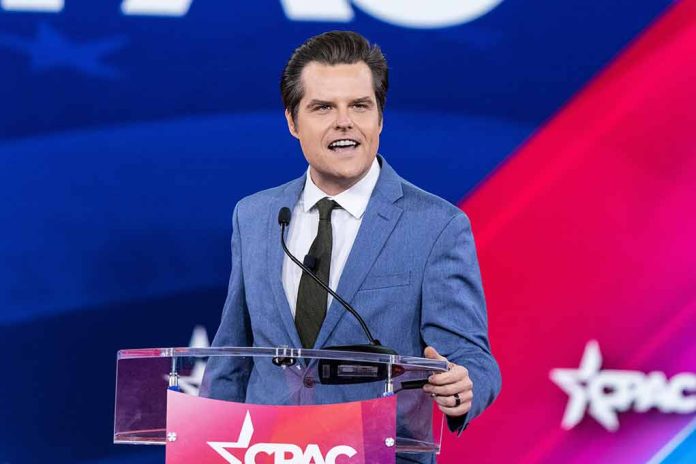 (ConservativeInsider.org) – Karen E Gilbert, one of the lead prosecutors in the case against Donald Trump, in which the former President has been arraigned on charges that he mishandled classified White House documents, has been exposed as a campaign donor to the Democratic National Committee. The matter had been brought to light by Rep. Matt Gaetz (R-FL), who also demanded answers concerning the rest of the staff on the prosecutorial team involved in Trump's case.
Rep. Gaetz sent a letter to Merrick Garland, the Attorney General, requesting full details concerning all the staff on Special Counsel Jack Smith's team, specifically relating to employees detailed to or hired by his office, together with staff rosters, phone lists and any other relevant information under the control or custody of the Department of Justice (DOJ). Gaetz said that the way in which Jack Smith's office was structured could be construed as "highly irregular and of great public concern."
This is not the first time that Ms. Gilbert has been in the headlines for controversial reasons – she once secretly recorded a defense lawyer in a manner that earned her a reprimand by a federal judge, narrowly escaping a charge of contempt of court that would have resulted in a severe prison sentence had she been found guilty.
Robert Mueller, Special Counsel Jack Smith's predecessor, who at the time had been investigating then-President Trump for allegations of collusion with Russia, had hired a series of Hillary Clinton donors including a former lawyer for the Clinton Foundation, which itself was at the centre of corruption allegations by critics of the Clinton regime.
The integrity and impartiality of Jack Smith's investigation into Trump's alleged mishandling of classified White House documents is of great concern to the former President's supporters. The DOJ has shown no interest in prosecuting any of the crimes alleged to have been carried out by the Biden and Clinton families, despite evidence to back up the claims.
Copyright 2023, ConservativeInsider.org