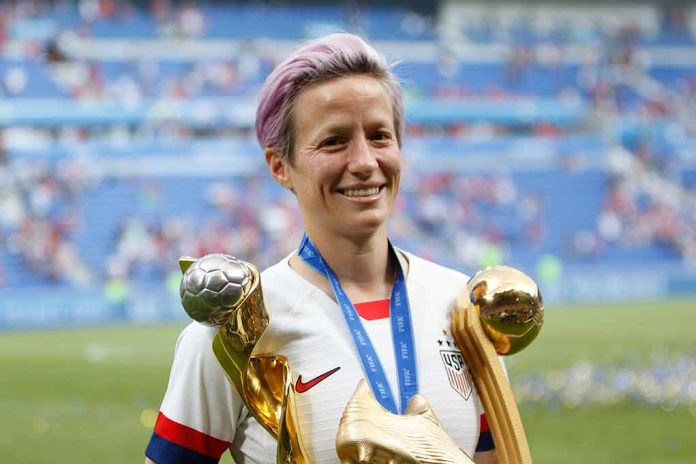 (ConservativeInsider.org) – Olympic Gold Medalist and two-time World Cup champion Megan Rapinoe announced that she will be retiring from the National Women's Soccer League after this season. She will also appear in the Women's World Cup for the United States one last time before she retires.
Rapinoe, 38, said the reason why she announced her retirement ahead of the 2023 FIFA Women's World Cup was to help keep the US Women's National Team focused on winning another championship. She said her announcement would help them to avoid the distraction of having to field questions about whether she would play another season. Rapinoe stated she also wanted to be able to make the announcement on her "own terms," which she did via social media.
The two-time World Cup champion has been playing soccer professionally since 2006. Her 17-year tenure is credited by many sports analysts as being one of the core players that led the United States Women's soccer team to the World Cup. In her time on the USWNT, they had a winning percentage of 86%. Rapinoe currently has 199 international games played under her belt, but by the time she retires, she will be one of 14 players in history to have represented the United States in over 200 international appearances.
Rapinoe has been a liberal darling since 2019, when she helped lead the US to victory in the Women's World Cup and repeatedly spoke out against President Donald Trump. She has also brought attention to other issues, such as the gender pay gap between male and female athletes, which led to a collective bargaining agreement between the men's and women's soccer teams to pay them "identical" terms. In 2022, President Joe Biden awarded her with the Presidential Medal of Freedom. Rapinoe is the first soccer player to receive that award.
After 17 years playing professional soccer, Rapinoe has stated that she's excited to pass on the torch to the next generation of up-and-coming female players.
Copyright 2023, ConservativeInsider.org