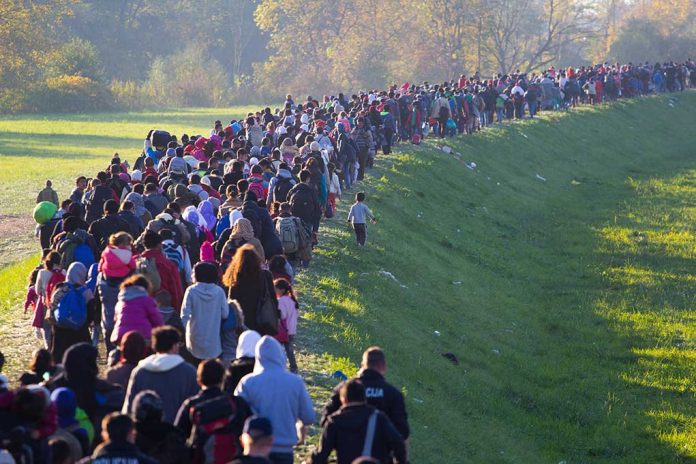 (ConservativeInsider.org) – Mexican officials recently announced the discovery of nearly 500 migrants who were attempting to reach the United States hidden in a compound near Mexico City. Of the 491 would-be migrants, over half were children. Nearly one fifth of them, or 52 children, were unaccompanied by an adult.
Nearly all of the migrants were from Guatemala, though six were from Honduras. The migrants were housed in a complex near a route commonly used by smugglers, where they were awaiting trucks or buses that would attempt to sneak them into the United States. Once discovered, the migrants were taken to the Mexican National Institute of Migration, where they were sheltered as well as given food, water, and medical attention.
Mexico has recently been trying to crack down on illegal immigration through and into their country. They recently closed down migration offices on the border they share with Guatemala that used to grant temporary permits to people attempting to travel north into the US. Other countries in Central America have taken similar actions in an attempt to "de-incentivize" illegal immigration.
These efforts have apparently not been enough to stem the tide of illegal immigrants, as record numbers of migrants have been observed attempting to leave South America and head northward. Approximately 250,000 people were recorded crossing through the Darien Gap, which connects Colombia and Panama and is the only land pathway that leads north for migrants leaving South America. The number of migrants recorded passing through there in the first six months of 2023 is higher than the total number of migrants recorded passing through in all of 2022. UNICEF projects that the number of people attempting to cross the Darien Gap will continue to increase throughout this year, likely to reach 400,000 by year's end.
Mexico's current immigration policies allow for anyone with an appointment with US immigration officials on the Biden Administration's CPB One app to travel through the country towards the US, which smuggling cartels have taken advantage of.
Copyright 2023, ConservativeInsider.org