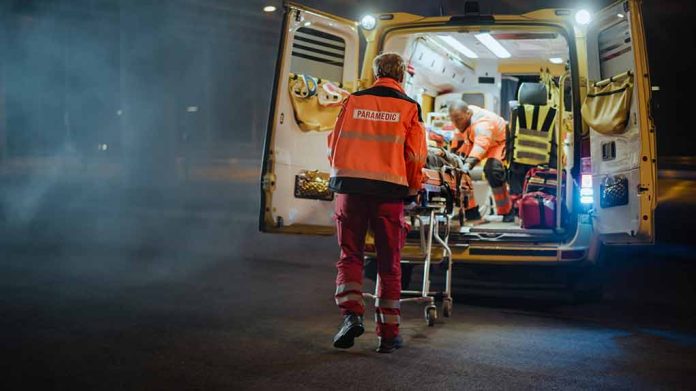 (ConservativeInsider.org) – The mother of a New York City EMT who was stabbed in an ambulance last month has spoken out about how she and her family fear that the attacker will be released quickly and given "minimal" consequences due to lax laws in the city on crime.
Julia Fatum, a 25-year-old from a small town in upstate New York, was working as an EMT when she was called to aid Rudy Garcia, a 48-year-old felon. According to a recently unsealed indictment, Fatum told Garcia to stop after he threw a piece of trash at her, at which point Garcia pulled a knife from his boot and stabbed Fatum six times. Garcia stabbed Fatum in the arm, the chest, and repeatedly in the leg.
Fatum's mother, Cara Fatum-Grant, has shared on social media that her daughter's attacker has been released on bond eight separate times for crimes ranging from drugs to menacing with a weapon to burglary and assault on a police officer. According to Fatum-Grant, Garcia is free due to a 2019 state law that eliminated cash bail for many crimes, allowing suspected offenders to go free while they await trial. Fatum-Grant said her daughter's attacker should not have been released given his extensive criminal history. The victim's mother suggested that New York City has "failed its people" and sarcastically asked how bail reform was going.
After multiple surgeries, Fatum was released from the hospital in late July. Fatum-Grant spoke to the media about her daughter's recovery, calling her daughter "strong and determined" but reported that Fatum's recovery is going slowly. She is still having trouble walking and may need further surgeries in the future.
While Garcia was released 8 times without bail previously despite committing multiple crimes, some violent, he is currently being held at Rikers Island on $500,000 bail. Garcia pleaded not guilty to all charges related to the attack. His next court appearance is scheduled for October 30th.
Copyright 2023, ConservativeInsider.org