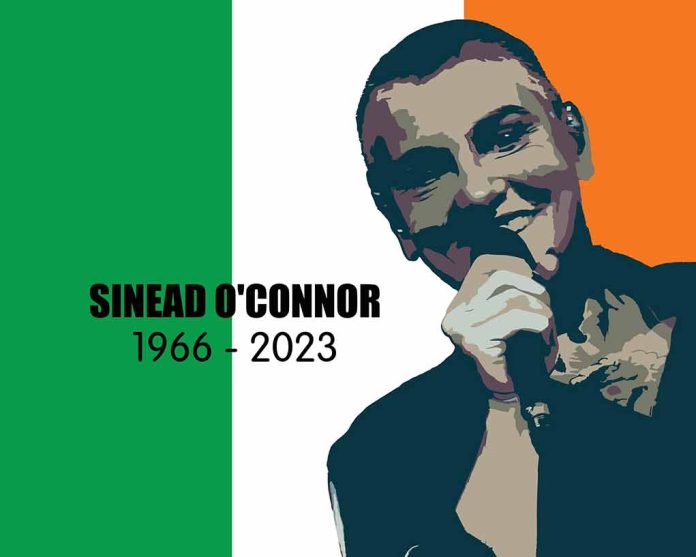 (ConservativeInsider.org) – On July 26, police were called to the London home of Sinead O'Connor where she was found unresponsive. The 56-year-old woman was pronounced dead at the scene and next of kin was immediately notified. Police noted "nothing suspicious." As no cause of death is clear, an autopsy will be completed within the next several weeks.
Irish President Michael D. Higgins shared his condolences with her family and fans as she was a "unique talent and a gifted composer." Celebrities and musicians have reached out via social media to remember the free spirit who openly struggled with addiction and depression. The loss of her son in 2022 by suicide was well known to cause her pain and struggle. Many celebrities noted that her spirit and fight will live on through her music, inspiring for all time.
Born in Dublin in 1966, she often spoke of her youth, the abuse, and the struggles she endured before being discovered at age 15. She was outspoken on issues of child abuse, war, and organized religion. Her political actions were sometimes polarizing but always came from a place of unyielding support for others and worthy causes. She tirelessly worked to use her platform to entertain and educate. In 1990, she famously tore a photo of the Pope in half on live TV, speaking to the camera, "fight the real enemy" – as it was amid the unprecedented Catholic Church sexual abuse scandal.
Her memoir and acclaimed documentary in recent years shed light on her life and music to her older fans and a new generation. In a retrospective of one's life, she is found to have been talented and working to advocate for others. A voice for those who struggle to have a voice in a place of power. A spirited fighter who rarely shied away from speaking her mind. May she rest in peace.
Copyright 2023, ConservativeInsider.org