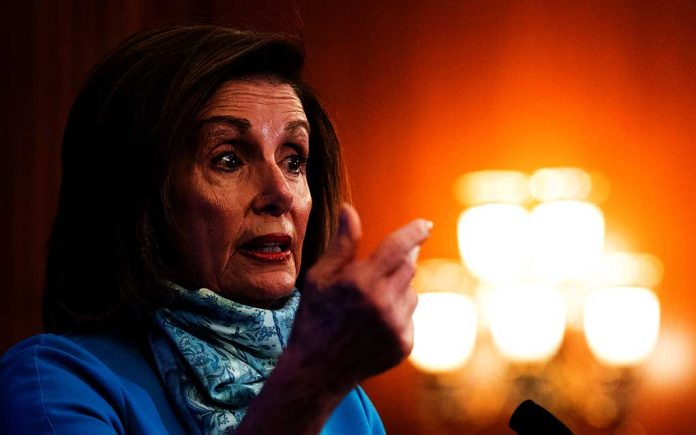 (ConservativeInsider.org) – Both President Joe Biden and House Speaker Nancy Pelosi (D-CA) have received criticism for their professed Catholic beliefs whilst holding pro-abortion views. Now, Pelosi herself has publicly admitted her platform runs contrary to that of the Catholic Church, but doesn't seem to think it's an issue.
On Tuesday, March 22, Pelosi spoke with the CEO and president of the Lyndon Baines Johnson Library, Mark Updegrove, at a Women's History Month event. During the discussion, the House Speaker highlighted her support for upholding Roe v. Wade despite her being a "devout" and "practicing" Catholic. She declared that abortion "isn't about what is your religious belief" despite the fact that Catholicism calls ending a pregnancy "a crime against human life."
Nancy went so far as to joke that she won't leave the Church even though she disagrees with some of its doctrines. The Daily Wire shared more about that statement:
Pro-Abortion Pelosi Describes Herself As 'Devout,' 'Practicing' Catholic, Jokes Pro-Lifers Would 'Like To Throw Me Out' https://t.co/UkJ6XBPRxh pic.twitter.com/2A4loV1Azw

— Daily Wire (@realDailyWire) March 23, 2022
Pelosi also continues to receive communion even though it states in a Catholic document approved in a 201-24 vote by US bishops that someone "should refrain" from taking the Eucharist if they publicly or privately disagree with Catholic doctrine. With this, Pelosi has clearly shown both her hypocritical attitude towards Catholicism as well as a disrespect for its teachings. Perhaps it's time to reconsider if she's truly devout if she only practices the parts of fatih that suit her.
Copyright 2022, ConservativeInsider.org