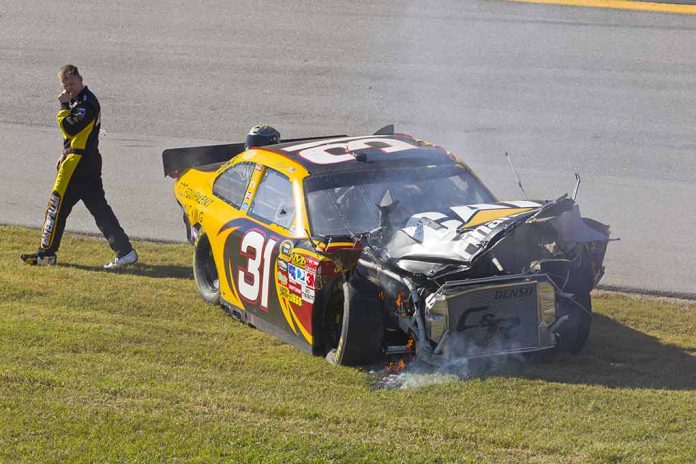 (ConservativeInsider.org) – Daytona International Speedway is home to one of NASCAR's most infamous racetracks and is located in Daytona Beach, Florida. On August 26th, 2023, driver Ryan Preece rolled his car a dozen times in a terrifying crash; the 32-year-old was able to climb out of his car as emergency workers ran to him. Initial medical exams showed that he was awake and alert, but he was taken to Halifax Health Medical Center for a complete examination.
Preece's car made contact with another and went into an out-of-control barrel roll, stopping at the infield grass. The vehicle's roll cage sustained minor damage and the fact that Preece walked away from this accident is a credit to NASCAR's Next Gen car, considered the safest vehicle ever raced. The vehicle design in question has previously faced some criticism as many drivers have suffered head injuries from relatively minor rear-end impacts. However, the 2023 model has many improvements from prior versions including more head security to deter concussions.
Preece posted to social media within hours of the incident that he was "okay" and would be back. With this elimination at Daytona, he was eliminated from playoffs after a difficult season. He thanked his team for a fast car and vowed to return.
Kurt Busch, 45, has formally retired from racing after a life-altering concussion and other ailments, such as arthritis lingering and causing ongoing pain. NASCAR safety continues to improve every year. Forty people have died from injuries sustained on the massive racetrack; Dale Earnhardt's death on the final lap of the Daytona 500 in 2001 is the most notorious.
Daytona International Speedway opened in 1959, and the Daytona 500 is considered the most prestigious race in NASCAR. The speedway also hosts other races, such as superbike and motocross, but the NASCAR race is the most widely televised.
Copyright 2023, ConservativeInsider.org