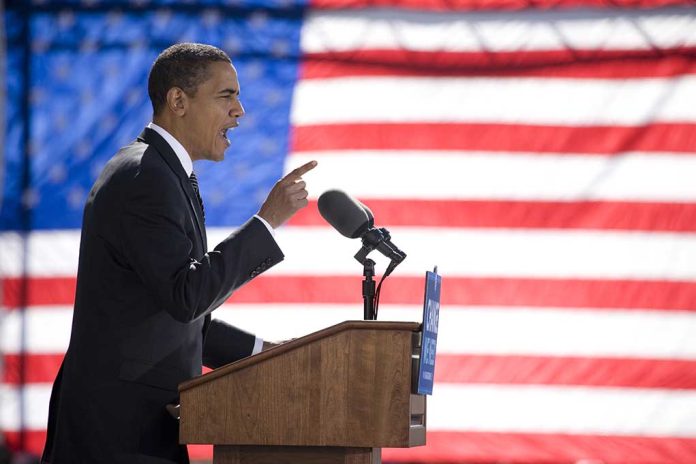 (ConservativeInsider.org) – The tragic loss of the submersible Titan in the North Atlantic has prompted many politicians and celebrities to draw comparisons with other historic events. For example, film director James Cameron, who produced the acclaimed "Titanic" film, and who is an expert on submersible design himself, said that he was struck by the parallels with the real-life Titanic, which sank after the captain ignored warnings to slow down as the vessel was heading into an ice field.
The Titan is suspected of having imploded because the CEO of the company that designed it ignored safety regulations and disregarded warnings from experts about what might happen if the carbon fibre "cutting-edge" design of the hull was subjected to the unrelenting pressure of 4000 metres of seawater.
Now former US President Barack Obama has weighed in, saying that although the sinking of the submersible was a tragic loss, and his thoughts were with the families of the five victims on board, the media had allocated a disproportionate amount of time to the drama as it unfolded in the North Atlantic. He said that what happened to the Titan overshadowed other tragic events that happened at the same time around the world and gave the example of a migrant boat sinking off the coast of Greece in the Mediterranean Sea.
The migrant boat, an overloaded fishing trawler, was carrying around 750 migrants whose origins were predominantly Middle Eastern, from their departure point off the coast of Africa. Approximately 500-600 migrants drowned when the boat capsized around 75 miles off the coast from Greece. There have been conflicting reports about who might have done what to help the migrants, but Obama decided to focus on the inequality of the media coverage.
Obama drew a comparison with the "obscene" levels of inequality that disproportionate impacted the Third World and said that if we do not address this equality, then "our democracy is not going to continue to be healthy."
Copyright 2023, ConservativeInsider.org