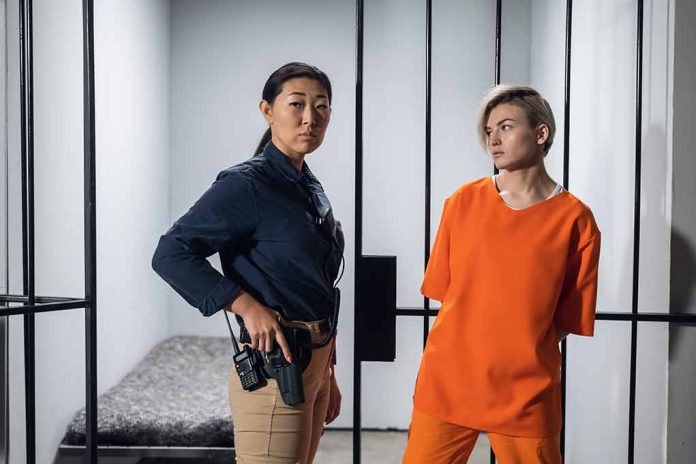 (ConservativeInsider.org) – The latest incident involving a female correctional officer and a male inmate may seem like the premise of a fiction novel, but it is real. Katie Loxton, 27, is a former prison officer at HMP Oakwood, in Staffordshire, UK, when she first encountered 32-year-old Adam Higgs. It is unclear when they began their relationship.
For misconduct in a public office, Loxton has now been jailed for 12 months. The evidence of their attachment was clear by photographs, hours of phone calls, notes, and observations by her peers. Higgs had an unauthorized cell phone and used that to communicate with Loxton over hundreds of hours.
Both Higgs and Loxton admitted their wrongdoing. Higgs has accepted additional time on his sentence for having an illegal phone, and Loxton admits failure to uphold the standards she swore to abide by. In the past 3 years, more than 36 guards have been fired for inappropriate conduct. This is a sharp increase in prior years, but that data is also paired with increased female staffing. According to the Ministry of Justice, females comprise 45% of guards.
In a prior incident, a guard denied accusations of impropriety and evidence was sparse until she named her inmate partner as the father of her baby. The guard is now imprisoned for nearly two years, and her paramour has many years remaining on his sentence.
In both cases and others, the female guards had no blemish on their record. They understood their chosen job carried necessary and practical consequences for actions. Some experts claim that guards are being placed in positions of power without the typical experience to handle the complex role. Some pundits have also posed if females should be working as guards in all-male prisons.
Prison safety is a paramount goal for the Ministry of Justice, and they note that relationships between guards and inmates are strictly forbidden as dictated by law.
Copyright 2023, ConservativeInsider.org