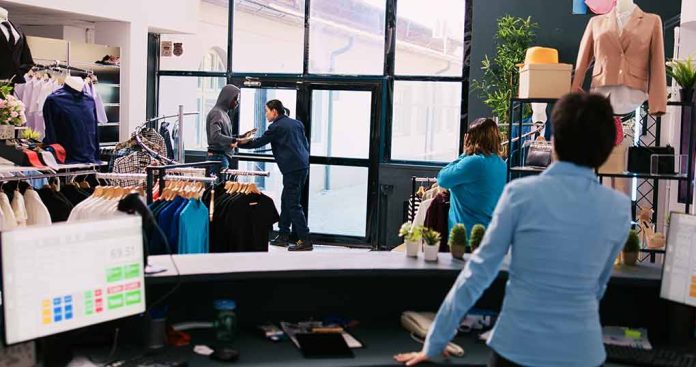 (ConservativeInsider.org) – A group of thieves swarmed a Nordstrom inside a mall in Los Angeles over Aug. 12-13 weekend and made off with $300k in high-end handbags, luxury clothing, and other items. There are conflicting reports as to how many people were involved, but anywhere between 20-50 people wearing ski masks walked into the store and began taking things, likely under the orders of an organized crime group or a gang, according to police.
Reports indicate that a security guard who tried to intervene was sprayed with pepper spray or mace as the group of thieves ransacked the store.
This is the second time this specific Nordstrom has been hit by a group of thieves, the first time being Black Friday in 2021. Other stores in the area, including Yves Saint Laurent, Nike, and Gucci have been hit by a "flash mob" of robbers this summer as well. Officials have made the first arrest in the YSL burglary in Glendale, taking Ivan Isaa Ramirez, 23, of Los Angeles, into custody on August 17. He is facing charges including organized retail theft, burglary, grand theft, and conspiracy.
Police have also issued an arrest warrant for Briana Jimenez, 21, who remains at large.
In the Nordstrom heist, thieves were dressed in all black and wearing ski masks and smashed display cases and knocked over shelves in order to steal, adding thousands in property damage as well.
Police in Glendale say they have "strong leads" on who committed or organized the crime, but they did not share details at this time, citing the ongoing investigation. A $50,000 reward for information that leads to the arrest of the suspects involved was offered by Rick Caruso, who owns The Americana at Brand Shopping Center. The LAPD said they are increasing patrols in the area so as to hopefully deter similar crimes.
Local residents have reported feeling less safe after seeing such brazen criminal activity happening in the middle of the day. Many have blamed the "zero-bail policy" in Los Angeles that prevents the LAPD and the Sheriff's Department from requiring cash bail for criminals to go free if they commit misdemeanors or non-violent offenses, like shoplifting. Many locals have now reported that they have switched entirely to online shopping, as they feel going to malls where things like this happen is "too dangerous."
Copyright 2023, ConservativeInsider.org