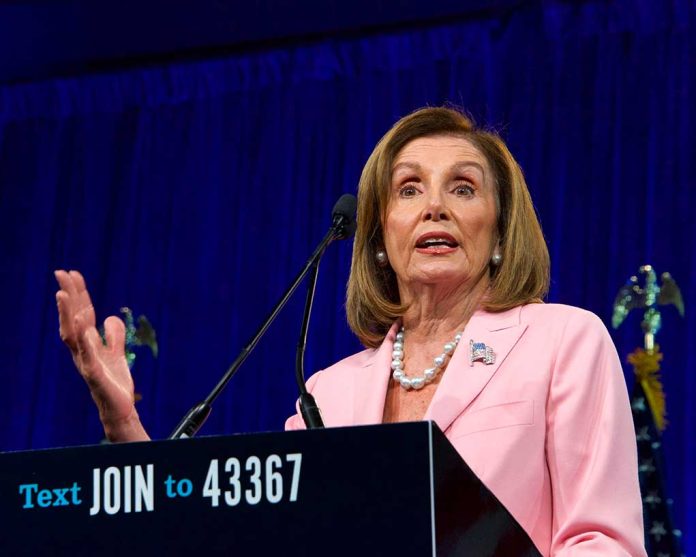 Pelosi's Office RESPONDS After Mysterious Purchase
(ConservativeInsider.org) – Politicians and lawmakers get a first-hand look at what is happening in the government and economy every day. This knowledge gives them the inside scoop into what could come next for America, which is good for those leading our nation. However, when this knowledge is used to make millions of dollars, the ethics are questionable, and it appears that is what House Speaker Nancy Pelosi's (D-CA) husband has been doing.
According to a recent report, Paul Pelosi, the speaker's husband, recently purchased between $1 and $5 million shares of Nvidia. This company makes semiconductors that are used in making computer chips. However, the controversy comes from the fact that Congress is preparing to vote on a subsidy bill that could send $52 billion to companies like these.
I don't care about January 6th.

I care about Nancy Pelosi's husband buying over $1 million of computer chip stock weeks before a vote on industry subsidies.

— Julio Gonzalez – juliogonzalez.com (@TaxReformExpert) July 18, 2022
On Monday, July 18, Fox News published a statement from Pelosi's office, highlighting that it is her husband making these purchases, and she "has no prior knowledge or subsequent involvement in any transactions." Pelosi's spokesman, Drew Hammill, also said that "sunlight is the best disinfectant" and asked the Committee on House Administration Chair to look into the accusations.
So, do you think Paul Pelosi choose his million-dollar stock purchase solely based on public knowledge, or do you think he had other information that could open him up to allegations of insider trading as the husband of the House Speaker?
Copyright 2022, ConservativeInsider.org