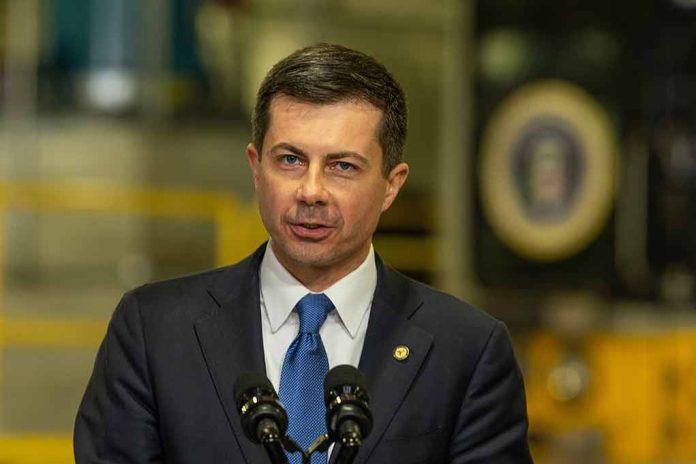 (ConservativeInsider.org) – Transportation Secretary Pete Buttigieg expressed his frustration recently as an appropriation debate on transportation funding devolved into Republicans proposing elimination of funding for LGBTQ causes. The hearing took several recesses after members traded insults and personal attacks which derailed proceedings.
Buttigieg has been touring the country and he notes that culture wars have eclipsed other foundational projects important to his transportation agency goals. The infrastructure of the United States requires ongoing transportation projects to ensure that all people can travel safely. He said he only sees communities wanting clean, affordable transportation and he is working to fulfill those requests.
Buttigieg is seeking the annual funding required for his agency to continue but the Fiscal Responsibility Act signed into law June 2023 may make progress more difficult. The total budget for the Transportation budget for Fiscal Year 2023 is $142 billion. The Biden-Harris Administration constructed this budget to expand on historic progress in modernization of transportation infrastructure.
Following the Ohio train derailment in early 2023, Buttigieg has faced criticism from both sides, but he contends that he has handled this matter as outlined by the applicable laws and guidance from the EPA.
The former 2020 Presidential candidate continues to spark rumors of another White House run but makes no mention if and when that might happen. His first candidacy showed his lack of national exposure. But now after years of travel and budget-handling his experience has grown. Whether that will prod Buttigieg to reach for a higher position remains to be seen. His current role as Secretary of Transportation is appointed and has no fixed term.
The Department of Transportation oversees thirteen agencies including the Federal Aviation Administration, the Federal Highway Administration, the Federal Railroad Administration, and the National Highway Traffic Safety Administration. Buttigieg is the youngest person to serve as Secretary of Transportation and the first openly gay person to hold a Cabinet position.
Copyright 2023, ConservativeInsider.org