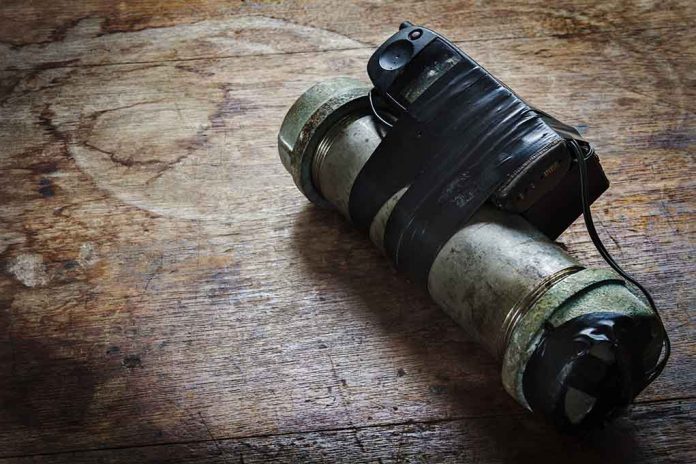 (ConservativeInsider.org) – While Philadelphia, Pennsylvania, may be nicknamed the City of Brotherly Love, for residents of the Holmesburg neighborhood, it felt like anything but that recently. A resident walking his dog in the area, which is northeast of the city, spotted a pipe over a foot long with caps on both ends. Thinking something was not right, he called 911. Here's what happened.
When police arrived around 2 p.m. on Sunday, February 19, the scene was unfolding near a cemetery located behind a local catholic church. They quickly identified an 18-inch pipe bomb with black residue on it. The bomb squad got to work moving the device nestled next to the railroad tracks. It was removed via a service road on St. Dominic Church's land. After the procedure, the police told the local priest, Father Edward Kearns, about the issue.
Father Kearns told OSV News he didn't even know the bomb removal was happening but was instead distracted by a golf match on television. Kearns went on to detail that he believes the device was targeting the railway rather than his church buildings. He also shared his thankfulness that no schoolchildren were nearby when the bomb was found and taken away, as it could have caused quite a scare. Feather Kearns said that the police told him the device was a dud.
BREAKING: 18-inch pipe bomb discovered near train tracks behind Philadelphia churchhttps://t.co/0ag6hFFbVB

— Jack Posobiec 🇺🇸 (@JackPosobiec) February 19, 2023
If the freight line was the intended target of the bomb, such an explosion could easily derail a train and cause a wealth of damage to the surrounding community and whatever, or whomever, was on board. After the recent train derailment in East Palestine, Ohio, that left a community grappling with enormous amounts of toxic chemicals, many people are wondering how such incidents will be prevented in the future as some lawmakers are asking for train transport to become more popular again.
Copyright 2023, ConservativeInsider.org