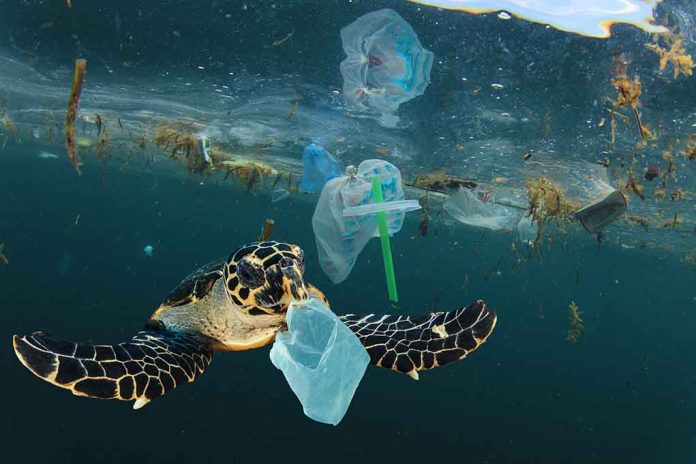 (ConservativeInsider.org) – In the 1950s and 60s, plastic production ramped up as manufacturers realized they could mold it into different shapes and sizes for various goods. This cheaper alternative to glass and metal gave way to the one-use items nearly every American has used, often daily. However, plastic has created an enormous burden on the environment, filling up landfills and littering both land and sea. Now, it seems nature might be responding to the plastic overload by evolving microbes of its own.
More Microbes Can Eat Plastic Now Than Ever Before
A recent study published in a Microbial Ecology journal revealed that plastic-degrading enzymes are on the rise in our world. These microbes, found in various land and marine habitats, can actually degrade microplastics, potentially paving the way for reducing plastic pollution on a large scale.
During the study of over 236 locations around the world, researchers found over 30,000 types of enzymes that could break down 10 different types of plastic. Among the newly discovered enzymes, 60% did not fit into a previously named class. This means scientists are learning about processes never studied before, giving them hope for some serious plastic-reducing power in the future.
Next Steps to Harness This Plastic-Destroying Power
Now, researchers' next steps are to get these enzymes into the lab and study which ones are the most efficient at breaking down various plastics and polymers. They hope to use these to expedite the natural degradation process, which can take anywhere from a few years to centuries to complete.
One company is already figuring out how to channel plastic-eating enzymes into production. In the spring of 2020, the research company Carbios announced it found a mutant bacterial enzyme in a pile of composting leaves that helped break down plastic bottles. Their process broke down the plastic into useful building blocks that manufacturers could then reuse for high-quality products, like beverage packaging. Previously, such recycled plastic was only used for carpets, clothes, and cheaper fabric items.
Creating a Plastic-Free Future
While moving away from using single-use plastic in the first place could go a long way to reducing the toxic load on the world, it's also important to figure out how to break down the plastic Earth already has. Hopefully, this new research will bring our world one step closer to a clean and conserved environment everyone can enjoy.
Copyright 2022, ConservativeInsider.org