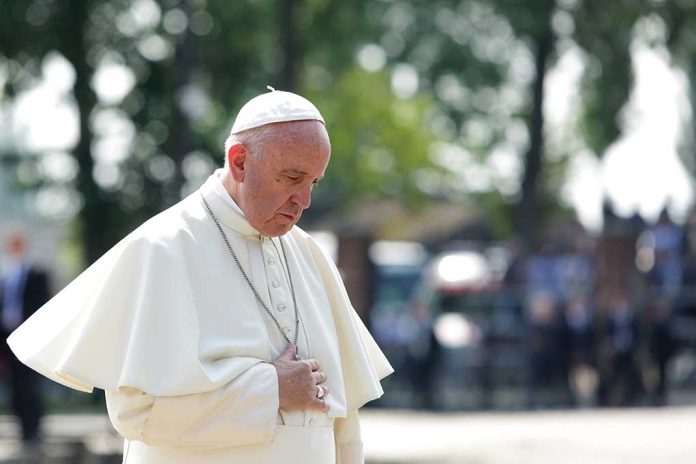 (ConservativeInsider.org) – For centuries, the Catholic Church has banned priests from being married. However, with each new pope, many people wonder if this rule will change to allow the church to recruit more clergy who desire to have families and children. While Pope Francis has stood by the priestly requirement for a long time, he may have suggested in a recent interview with the Argentine publication "Infobae" he is open to changing it.
In the interview, Pope Francis said "celibacy in the western Church is a temporary prescription," calling the old rule a "discipline." However, the interpretation by the Daily Wire and Google Translate says the Pope calls the practice a "temporal" tradition. All sources agree he contrasted it with the ordination of a priest which is "eternal."
#Gravitas | In an interview, Pope Francis hinted at the possibility of lifting priestly celibacy. He said the tradition is a "temporal prescription". Could the "reformist" Pope change the thousand-year-old tradition?@Mohammed11Saleh reports pic.twitter.com/yzX2WP5F21

— WION (@WIONews) March 13, 2023
The pope did acknowledge the rule is not "resolved one way or another" and highlighted that in the Eastern Catholic Church, any clergy who wants to marry can. The interview marked the tenth anniversary of the Pope taking over the helm of the Catholic Church.
If Pope Francis is indeed considering allowing Catholic clergy to marry, this could open up the job to a multitude of devout followers who did not want to give up the chance at raising a family. Many people, including the German Catholic Church, have advocated for such a change. However, in 2019, the Pope called celibacy "a gift" and noted he disagrees "with allowing optional celibacy."
The rule demanding celibacy from Catholic clergy was made in the 11th Century. Fox News posed one theory as to the reason for the ruling; the Church believed priests and bishops would give their money to the mission rather than their children when they passed. While Catholics wait to see if the Pope will clarify the translations of his recent interview, people are left to debate if celibacy is a temporal discipline in the Pope's eyes, meaning a decision made in the physical world for a set amount of time, or a temporary one that could be revised in the coming months.
Copyright 2023, ConservativeInsider.org