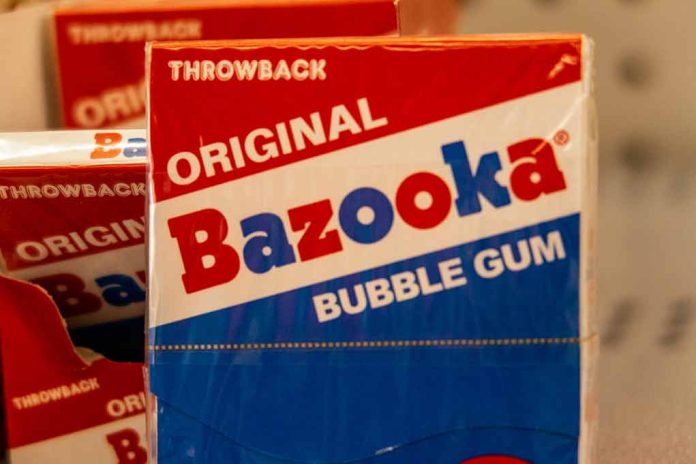 (ConservativeInsider.org) – Bazooka bubblegum, the candy aisle staple, is still popular after first coming to the market following WWII. The Topps Company of Brooklyn, New York, aptly named the gum after the rocket-propelled weapon popularized during the war. The patriotic packaging and inclusion of comic strips on the wrapper made the 1-cent candy a popular choice. Other flavors and packaging options soon followed, and its popularity continues today in part due to nostalgia and in part to its simplicity.
The valuation of the company Topps was $1.3 billion in 2021. Then Topps lost its exclusive licensing agreement with Major League Baseball to Fanatics, and then later, Topps was sold to Fanatics. The MLB and MLB Players Union voted to give exclusive rights to Fanatics. The Fanatics company is currently valued at $31 billion, a behemoth in the baseball world. Baseball cards were initially added as a free bonus to the gum, but in the 1950s, with the boom of baseball, the roles reversed.
Private equity firm Apax Partners, a British business that has over $65 billion in assets, is buying the company for $700 million from former Walt Disney CEO Michael Eisner, who has owned the brand for 15 years after acquiring it for $385 million through his private investment company. The remainder is Bazooka Candy Brands, encompassing Ring Pop, Push Pop, Juicy Drop, and Baby Bottle Pop. The original bazooka bubble gum only accounts for 2% of annual sales.
Eisner is a well-diversified investor and owns an English football club and many other investments and projects. He has managed to avoid the recent controversies with Disney leadership while supporting current CEO Bob Iger. He notes that this investment, while still lucrative, did not proceed as planned, but he's okay with that; he loves the product and is glad to see it continue.
Copyright 2023, ConservativeInsider.org