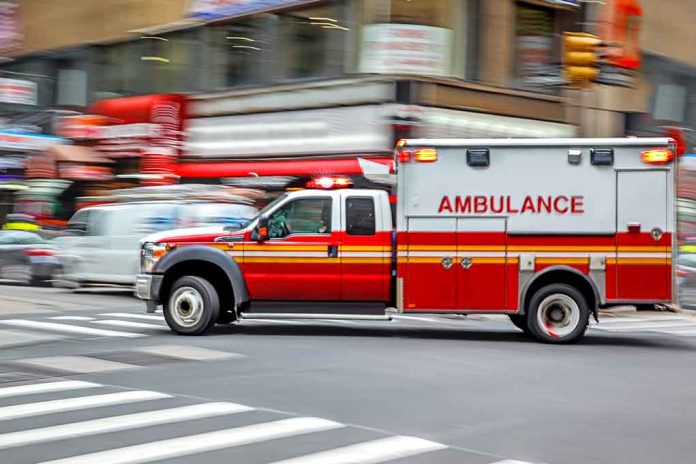 (ConservativeInsider.org) – American voters evaluate presidential candidates on many different factors, including personality, resume, political status, financial stability, and, of course, political viewpoints and voting records. However, some people, when choosing a government representative, may now take into consideration how quickly someone reacts when their spouse passes out while standing nearby. That's just what happened to White House hopeful Rollan Roberts II while he was announcing his 2024 presidential bid.
On Friday, January 20, West Virginia businessman Rollan Roberts II (R) stood at the state capitol with his wife alongside him to announce he wants to be the next President of the United States. During his speech, however, his wife, who is five months pregnant, fell to the floor and knocked over an American flag on her way down.
Roberts paused his speech when he heard the commotion but hesitated for multiple seconds before walking over to check on his spouse. Instead, various aides standing nearby were the first to make it to her side.
Rollan Roberts II announces he is running for president this week, when his five-months pregnant wife passes out. She was fine, and Roberts was obviously highly concerned. Hell of a start to Rollan Roberts 2024! pic.twitter.com/iPP1qcx3pr

— Ron Filipkowski 🇺🇦 (@RonFilipkowski) January 26, 2023
Not surprisingly, many people called Roberts out for his failure to respond quickly to his wife's need for help
Roberts is running his presidential campaign with the goal of helping build "America 2.0," according to his campaign website. His staff did upload a video of the announcement to his site, although they edited out the part where his wife faints. Now, the feed shows her standing for the first half of the announcement and then sitting in a chair sipping water during the second half.
While many people will only remember Roberts for his delayed reaction to come to his wife's aid, some may also consider him a viable candidate in 2024. The businessman and government advisor holds a doctorate in business administration and "believes entrepreneurship is the single, greatest economic engine." He claims he has a wealth of experience with diplomacy and infrastructure after serving on a delegation to South Sudan in 2021 and 2022 to help create a stable, permanent government.
If Republican voters can get past his shockingly long pause before running to his pregnant wife's side after she collapsed, perhaps they will consider him to be their next leader.
Copyright 2023, ConservativeInsider.org