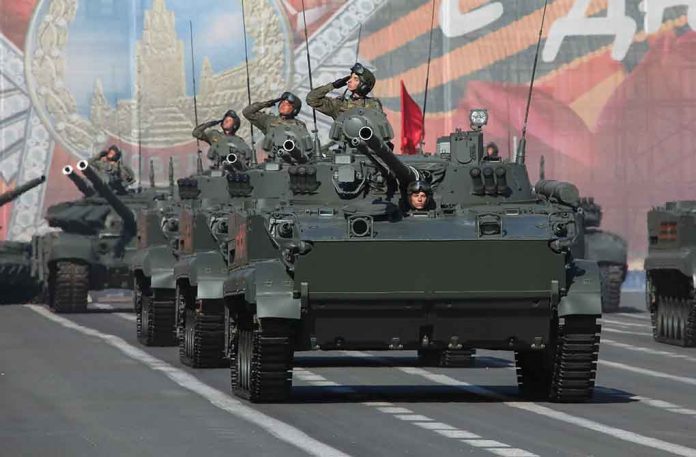 (ConservativeInsider.org) – Russian President Vladimir Putin is unrelenting in his attempt to take over Ukraine. Despite losing hundreds of thousands of troops already due to injuries and death, a new report from Newsmax reveals the leader may be trying to rally an additional 400,000 troops to fight in his war.
On Monday, March 20, Newsmax announced multiple sources near Ukraine believe the Kremlin will try and add close to half a million troops by 2025. Around the country, the government is asking Russian men to double-check that their military records are up to date and to join in training exercises. According to the report, Kremlin spokesman Dmitry Peskov denied any new mobilizations, saying the current record updates are a "common practice."
UKRAINE UPDATE: Moscow is looking to add at least 400,000 new troops to swell the ranks of a depleted Russian army that continues to suffer heavy casualties more than a year into President Vladimir Putin's invasion, sources close to Ukraine tell NEWSMAX. https://t.co/di9hFM6Rfo

— NEWSMAX (@NEWSMAX) March 20, 2023
While this new influx of troops may seem daunting, the Washington-based Institute of War wrote in a March 19 Russian campaign update that "it is highly unlikely the commitment of additional forces in future mobilization waves will produce a dramatically different outcome this year." Considering the update, the belief is that Ukraine is in a good position to "launch counter-offensives in critical sectors of the current frontline."
To support this conclusion, retired US Army Officer and former Commanding General of the US Army in Europe Ben Hodges believes Russian troops will "collapse" by the end of 2023 due to high attrition rates.
Impressive analysis by @MMKeupp Russia is being attrited at such a rate that they may collapse before the end of this year, assuming the West delivers in time what we've promised. War is a test of will and a test of logistics. https://t.co/JdORRVoZen via @tonline

— Ben Hodges (@general_ben) March 17, 2023
As Russia may be gathering more troops, NATO is also looking to bolster its borders with troops, military equipment, and stockpiles of weapons, according to POLITICO. However, the organization will likely face an uphill battle as it tries to get each nation to put forward what they believe is a fair share. NATO's goal is to get 300,000 soldiers onto its border in the coming months, as well as the necessary supplies and money to move them quickly if needed.
Copyright 2023, ConservativeInsider.org