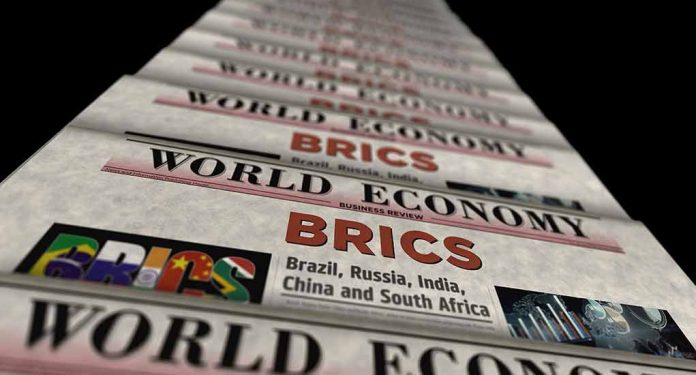 (ConservativeInsider.org) – Vladimir Putin, longstanding leader of the Russian Federation, will not be attending the upcoming BRICs Summit in South Africa this year due to concerns he would be arrested after an indictment of war crimes by the International Criminal Court. South Africa, one of the signatories of the treaty that formed the ICC, would be obligated to arrest the Russian president if he should set foot in their country.
BRICS is the acronym for a trading group composed of Brazil, Russia, India, China, and South Africa.
Putin was indicted by the International Criminal Court in March of this year. The warrants for his arrest allege that he is responsible for the illegal deportation and transfer of children from occupied Ukraine to the Russian Federation.
President Putin has had a friendly relationship with South African President Cyril Ramaphosa, who is no stranger to controversy himself. In recent months, Ramaphosa and several other African leaders traveled to both Ukraine and Russia to meet with Putin and Ukrainian President Volodymyr Zelenskyy in order to have diplomatic peace talks.
While Ramaphosa has refused to agree to arresting Putin should he set foot on South African soil, saying that doing so would be tantamount to initiating war on Russia, Putin still declined to visit during the BRICs Summit.
The main political opposition party to President Ramaphosa in South Africa, the Democratic Alliance, has pushed for the arrest of Putin over his alleged war crimes. Ramaphosa has pushed back, saying that leading his nation into war with Russia would be "inconsistent with [their] constitution" and would extend the duration of the war between Russia and Ukraine.
As a member of the United Nations, South Africa has repeatedly refused to take part in measures that would condemn Russia's aggression, suggesting that more dialogue between the nations would help to end the war.
Dmitry Peskov, a Kremlin spokesperson, stated that Putin will take part in the BRICs Summit by video call so as to avoid putting President Ramaphosa and the country of South Africa in a difficult position.
Copyright 2023, ConservativeInsider.org