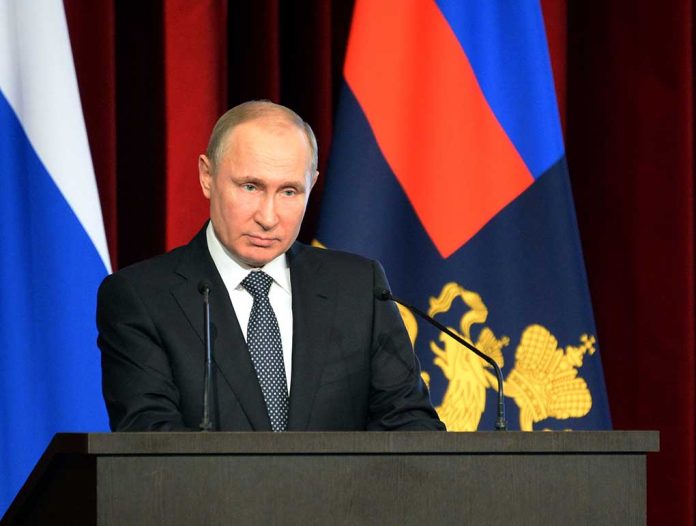 Putin's Latest WAR Tactic Was A Dirty Trick
(ConservativeInsider.org) – At first glance, a promise of an operational pause during a war sounds like a time to refresh, regroup, and restock. Yet, when Russian President Vladimir Putin told the world his troops on the frontline would take a pause, few actually did. Instead, he continues to hammer Ukrainian towns and cities with missiles as his military scrambles to get more troops and supplies to the frontlines.
Putin Takes a "Pause"
On Monday, July 4, Putin met with his defense minister Sergei Shoigu to schedule a break for his troops in Luhansk. He noted the units that "achieved success…should rest." This announcement came just after Russian forces declared victory in the city of Lysychansk, the final Ukrainian stronghold in the Luhansk region.
Putin was likely trying to show concern for his troops on the frontline, many of whom lost numerous peers in the months-long war. Still, according to The Daily Beast, the Institute for the Study of War (IWS), a DC-based think tank, wondered if Putin would allow his troops to take "a long enough operational pause to allow these likely exhausted forces to regain their strength."
What's Really Happening During This Alleged Break?
While officials have confirmed that certain Russian units are taking a break from operations, not all are. Bombings and missile strikes have continued in Ukraine, especially on the eastern front lines, where Russia is likely regrouping to attack next. By continuing this aspect of the war, the Russian military is hoping Ukrainian troops won't be able to launch a counterattack while Kremlin-backed troops are reenergizing and resupplying.
"'[A] successful military operational pause usually includes continued assaults on some enemy targets.' In this way, says ISW, 'Russia would seek to prevent Ukraine from carrying out a successful counterattack as Moscow's forces regroup.'"@nytimes: https://t.co/QUyzsuiFFQ

— ISW (@TheStudyofWar) July 9, 2022
But Ukraine has been able to fight back a bit. The Ukrainian military has received more weapons and training from various Western nations, including the US High Mobility Artillery Rocket Systems (HIMARS), which helped destroy a Russian ammunition depot in Nova Kakhovka. The Ukrainians destroyed two additional depots on Tuesday as well.
Russia Tries to Recruit More Troops
Putin didn't say how long a pause he wanted his troops to take. However, experts have seen the military is struggling to bring enough troops to the frontlines, potentially making this a longer break than the Russian leader would like. The Russian government is likely hoping to avoid a national draft as that step would probably upset large groups of people, especially in Moscow.
Most military recruits appear to be coming from ethnic minorities, rural communities, and even the separatist region in Eastern Ukraine. With this strategy, the Russian government hopes to minimize the casualties of ethnic Russians and wealthy families and try to maintain war support through propaganda.
Copyright 2022, ConservativeInsider.org