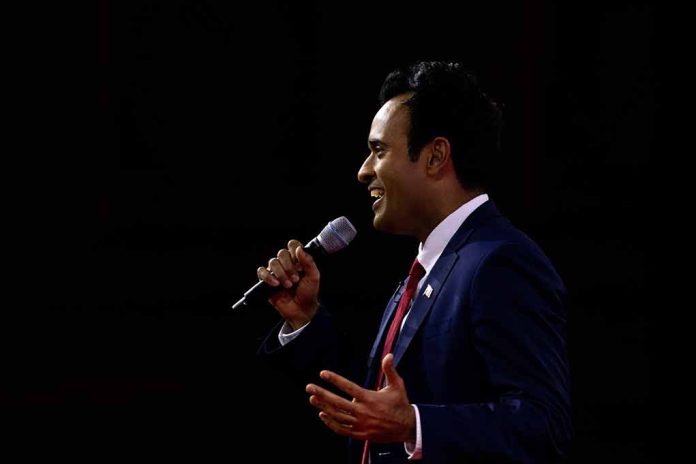 (ConservativeInsider.org) – Vivek Ramaswamy, American entrepreneur and Republican presidential candidate, has recently reiterated that if he were elected president, he would pardon former President Donald Trump of all charges.
Former President Trump is currently facing 40 federal charges related to hoarding and hiding classified documents, and recently additional charges were added for attempting to hide security footage from investigators after a subpoena was issued for it.
Ramaswamy, currently a distant third in the Republican presidential race behind former President Trump and Florida governor Ron DeSantis, stated that he believes the crimes Trump is alleged to have committed are "process crimes." This means the crime would not have happened if not there was not an investigation, or in other words, an offense against the judicial process.
On CNN's "State of The Union," Ramaswamy stated that he believes the Department of Justice and the Federal Bureau of Investigations have a "bad habit" of creating crimes and criminals through political investigations.
Ramaswamy stated that he believes prosecuting Trump would create a "national divorce" in our country that would be difficult to recover from. He said that his focus as a presidential hopeful is on what would move our country forward rather than towards more division.
Earlier this summer, Ramaswamy asked the other Republican candidates to state that they would pardon former President Trump if they were elected, and while some said they do not trust the Department of Justice within President Biden's administration, none went so far as to say they would give Trump a pardon. Nikki Haley, former governor of South Carolina, gently criticized Trump but also brought up previous presidential pardons that were controversial at the time but claimed they were necessary in moving the country forward. Former Arkansas governor and Republican presidential hopeful, Asa Hutchinson, said talk of pardoning Trump was "premature."
The Trump campaign responded to the newest charges brought against him by saying the "Biden Crime Family" is attempting to harass former President Trump and those closest to him with these charges.
Copyright 2023, ConservativeInsider.org