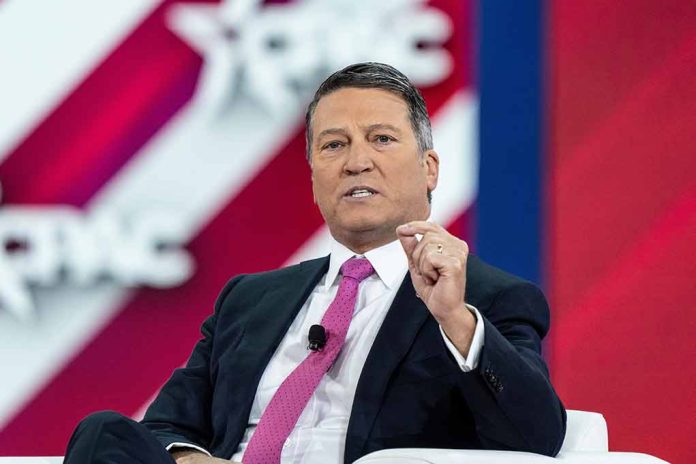 (ConservativeInsider.org) – Video of an altercation between Rep. Ronny Jackson (R-TX) and police officers at a rodeo that happened in July surfaced online this week after an open records request from The Texas Tribune. Rep. Jackson, who is a trained ER physician, was attempting to help a young woman who was suffering from a seizure at the crowded event when officers allegedly asked everyone to step away so emergency medical providers could get in. Rep. Jackson refused, stating that he was an ER physician, which led to an altercation between Jackson and the officers.
The video, which is missing audio in several sections, shows a heated dispute between officers and Jackson while he is attending to the young woman. After she was loaded onto a stretcher, two officers wrestled Rep. Jackson to the ground face down before handcuffing him. In the video, a verbal disagreement between Jackson and the officers can be heard, mostly centering around whether the officers told Jackson to leave the girl alone or not. In the profanity-laced video, Jackson can be heard threatening to call the governor to report on the officer's actions, which he described as "overly aggressive and incompetent."
When asked about the altercation, one of the officers involved said he believed Jackson's belligerent behavior was likely caused by his consumption of alcohol at the event, an allegation Jackson denied.
Rep. Jackson, who served as a White House physician under both Presidents Obama and Trump and who is also a retired Navy rear admiral as well as a two-term Representative, has a history of controversies around his alleged aggressive behavior and alcohol usage. A 2021 report from the Pentagon's inspector general said Jackson bullied, disparaged, and belittled his colleagues in addition to creating a "toxic" work environment. A report into the allegations was conducted and of 60 colleagues of Jackson's who were interviewed, 56 of them reported seeing him yelling, cursing, screaming, and belittling subordinates. Jackson called the report a "political hit job."
Copyright 2023, ConservativeInsider.org