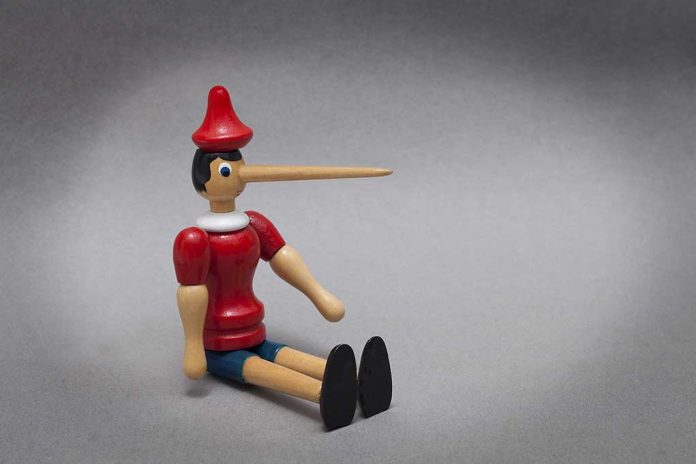 (ConservativeInsider.org) – Peter Doocy, a White House Correspondent who works for Fox News, came forward to boldly confront Press Secretary Karine Jean-Pierre on the claim she recently made that illegal immigration had dropped by 90 percent. KJP, as she's known to the media, stated at the briefing held on May 1, 2023, that illegal immigration went down by a whopping 90 percent since Joe Biden took over the Oval Office, according to the Daily Caller. 
She then stated that the president has tools at his disposal, which he's made use of, to accomplish this feat. KJP said Biden and his administration deal with the nation's immigration system in a humane way that actually handles the situation happening along the southern border, which, she claims, is why the parolee program has enjoyed such huge success. The White House Press Secretary then made the 90 percent claim, attributing the massive drop to the actions of President Biden.
On May 2, 2023, Doocy asked Jean-Pierre where she got the 90 percent figure from, going on to cite information gleaned from a Customs and Border Protection report that demonstrated there were 136,000 more encounters with illegal immigrants over the course of this fiscal year compared to the previous one. This seemed to greatly annoy Jean-Pierre, according to Fox News. 
She then tried to talk over Doocy as he was speaking, referring to his question as "dramatic." Doocy then fired back by asking what was so dramatic about simply asking a question. He was once again cut off by Jean-Pierre, who tried to clarify that she had been talking about the parolee program, saying, "As you know the president put in place a parolee program to deal with certain countries on ways that we can limit illegal migration."
She once again stated that the information has shown that the numbers decreased by 90 percent.
DOOCY: "You said yesterday that when it comes to illegal migration, you've seen it come down by more than 90%. Where did that number come from?"

KJP: "If the dramatics could come down just a little bit…The president put in place a parolee program…the data has shown us it has… pic.twitter.com/1rdryjDJZH

— Townhall.com (@townhallcom) May 2, 2023
When Doocy attempted to ask another question, Jean-Pierre shut him down saying she was moving on, IJR reported.
Copyright 2023, ConservativeInsider.org