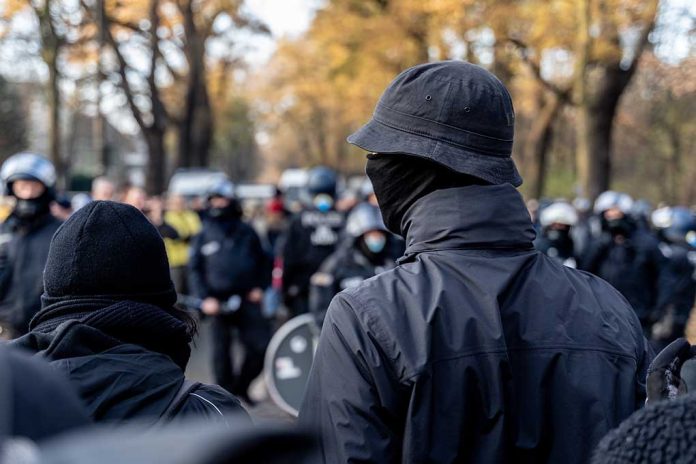 GOP Rally ATTACKED – Antifa Members Swarm Event!
(ConservativeInsider.org) – Portland, Oregon, was often the home of riots in 2020 when Antifa subscribers inflicted damage upon the city, its shops, and its residents. Nearly two years later, the extremists still appear occasionally, most recently during a Republican rally for a GOP gubernatorial candidate.
On Saturday, April 30, protestors wearing all black arrived at a rally for Republican candidate for governor Stan Pulliam. The GOP rally attendees were speaking about funding the police, taking back the streets, and keeping the community secure once again. However, black-clad extremists soon overshadowed this message by throwing smoke canisters and shaking cowbells in their faces.
Stan Pulliam, mayor of Sandy, Oregon, who was hosting the rally for his candidacy, shared a video of the disruption unfolding:
This is what happens when a Republican dares to hold an event in Portland to talk about funding our police. Antifa shows up. Well we won't be intimidated and stop speaking the truth. #WarOnWoke #orpol #orgov pic.twitter.com/tBRiHMao7W

— Mayor Stan Pulliam (@StanPulliam) April 30, 2022
According to National File, the Antifa extremists then proceeded to break windows, hit vehicles, and force the rally attendees to stop their event. Calls to 911 were allegedly on hold for 20 minutes and police didn't arrive on scene until the damage was done.
Even two years after this violence started, Portland has not been able to get these extremists under control. Its government has left it underfunded and unguarded. Will the upcoming November election finally bring the city the law and order it needs, or will the Left continue to let criminals break the rules and threaten residents in its streets?
Copyright 2022, ConservativeInsider.org