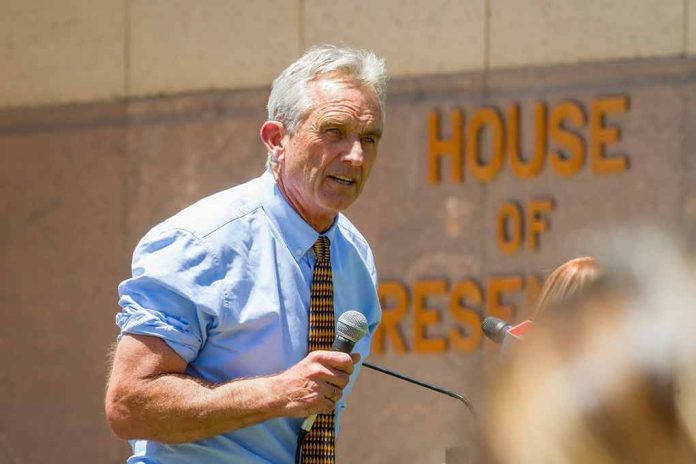 (ConservativeInsider.org) – Robert F. Kennedy Jr. has found a vocal and energized audience supporting his campaign for President in 2024. Kennedy enjoys a stable popularity rating among Democratic voters and, in some polls, does considerably better than Biden in the 2024 primary election. Kennedy's "gift" is that he will not run independently and divide the center and left.
Some pundits have noted that Kennedy should consider an independent challenge in the primary election, but Kennedy has confirmed that is not an option. His website proclaims he is a proud Democrat. Biden's low enthusiasm for another term is a weak point in his re-election campaign.
A Quinnipiac University polling analyst has noted that neither Biden nor Trump are knocking out strong results on favorability, and almost half the country would consider a third option.
Kennedy is 69 and, therefore, the youngest among himself, Biden, and Trump. He is the nephew of President Kennedy and Senator Kennedy. Kennedy has a law degree from Harvard and a mixed history as an environmental and health advocate.
Kennedy is polling well mainly due to his family name and the desire for an option beyond Biden in the upcoming election. Kennedy is not a toe-the-line Democrat as he has held an anti-vaccination stance during the pandemic and could garner support with centrist voters. It is not unprecedented for an incumbent to have some competition within their party, but there is yet to be a modern upset in a primary facing an incumbent.
The White House, the Democratic National Committee, and Mr. Biden's reelection campaign have all declined to speak regarding the Kennedy campaign. Other democrats tout the efforts as a "joke" and a waste of resources. Some consider Kennedy's views on vaccines and Russia as dangerous. Kennedy's campaign leader is Dennis Kucinich, a former left-wing congressman with experience in the 2004 presidential election. With over one year until the election, it's hard to say who will make it to the end.
Copyright 2023, ConservativeInsider.org